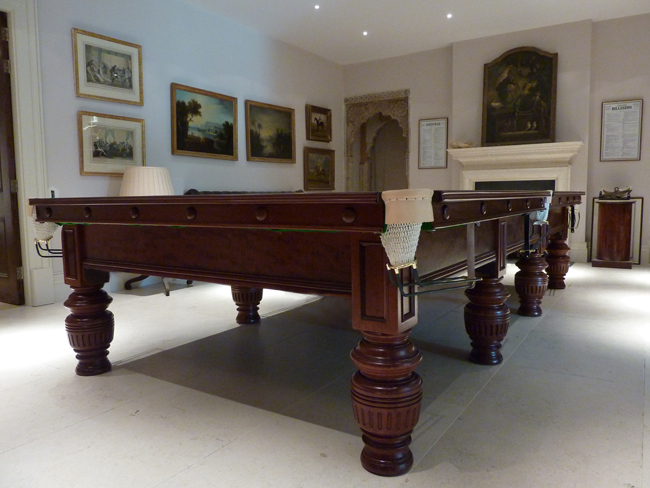 Full-size Burroughes & Watts Record Snooker Table in solid mahogany Circa 1910 - 1920.

This magnificent antique snooker table will go through the full procces of refurbishment as shown above with one that was restored and fitted a few years ago.
All woodwork to be stripped and sanded, any imperfections repaired and all
outward facing surfaces finished in a rich dark mahogany satin polish.
New natural hide leather pockets, cotton nets and ballrunner pockets.
Comes supplied with short cross rest, spider rest, long tackle, 2 snooker cues, scoreboard and a set of Aramith snooker balls.
New Hainsworth Smart Wool napped cloth with colour of your choice.
The table will look and play as new.

Email enquiries; ian@idonohoe.com
Made From Solid Mahogany
New Northern Rubbers Fitted
Wool napped cloth (colour of your choice).
Precision Ground 5 piece 1" 1/2" Welsh Slate
Uk ground floor install and delivery usually £200.
23/04/2021 Table price sold pending deposit £3750 inc all the above.
Delivery and installation £200
Total £3950
Deposit @ 20% = £790
Balance of £3160 paid at point of install and your satisfaction.
Contact to arrange 20% deposit or if your snooker room is not ready to secure this table.
The majority of our customers are undergoing their own snooker room developments. We understand that building works seldom go to plan and will hold a table until you are ready at no extra cost.
Cash balance to be paid at point of installation to your satisfaction. ian@idonohoe.com 07969288786 Ian.

Refurbished here In Accrington England.
Idonohoe Snooker Accrington Lancashire England
ian@idonohoe.com
Restorers of the highest quality
Snooker & Pool Tables in the Industry. Right here in Accrington Lancashire England.
Refurbished secondhand and antique tables.
SOLD pending deposit 12ft full-size Burroughes & Watts Record Snooker Table