SOLD * 12ft Riley Regis Club Snooker Table. Frame in Solid Pine, cushions in solid Mahogany

This absolute cracker of a table from the 1980's manufactured at Riley's in Accrington.
It no surprise that these tables can be found in many snooker halls the world over.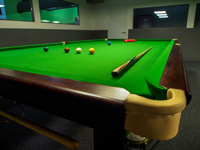 Its basic looking design is very deceptive as this table has the same cushions, Slate, Rubbers and cloth as a Riley Aristocrat and as a consequence plays exactly the same. So if you are on a budget and in the market for a proper snooker table, then see these images and look no further.
All exterior facing woodwork to be totally stripped back to the bare wood. Any imperfections repaired and the complete table re-polished back to its original state. "It will look fantastic and play as new".
New pocket leathers and nets are to be fitted, cushions and bed cloth to be recovered in Hainsworth Smart Wool Napped Cloth.

Will also come supplied with all accessories for two persons to play a game of snooker inc... 2 x new quality Snooker cues, cross rest, long tackle and hangers.
Set of new snooker balls, triangle and a scoreboard.

Free NW England professionally delivered and installed by one of the country's top installers "Sovereign Snooker Services". Other mainland UK usually £100. Refurbishment usually takes around 5 - 6 weeks from an order being placed to installation.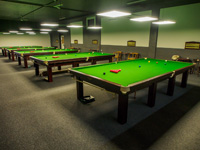 Please call or email using contact details below, feel free to ask any questions. If your room is under development, we understand that building works seldom go to plan and will hold the table until you are ready to take delivery. We are not a high volume manufacturer with most of our tables made or refurbished to our customers special instructions. ( we do things the old way ) To place an order a 20% deposit is required either by cheque or bank transfer.
The balance paid in cash or bank transfer at point of installation and your satisfaction. Please see our "Customer testimonials page for reassurance". Lead time 5 - 6 weeks.

Frame made from solid Yellow Pine, cushions in solid Brazillian Mahogany, Northern Rubbers Fitted, Hainsworth Smart Wool Napped Cloth
(colour of your choice).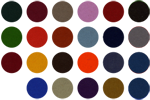 16/07/2019 Price

12ft Riley Pine Regis including all above £1850
Deposit @ 20% = £370

Balance of £1480 paid in cash at point of installation and your satisfaction.

If you would like to us to hold this snooker table until your snooker room is ready please give us a call or email to reserve.
Contact; ian@idonohoe.com

Ian.

Manufactured and Refurbished In Accrington England


All our tables are fully refurbished in Accrington, Lancashire by ex Riley employees.

All our tables are fully refurbished in our Accrington Snooker Factory, Lancashire by ex Riley employees.