Full-size & Undersize Traditional Majestic Match Snooker Table

Latest news from the workshop: 28/01/2021 Lead time at the moment around first week in May 2021


The Traditional Majestic Snooker Table range are offered in solid Oak, Mahogany or Walnut.
Superbly built in the original traditional way. 100% hand made from solid hardwoods in Accrington England by skilled ex Riley designers, machinists and polishers.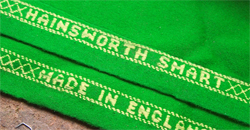 In fact the very same personal that made Ronnie O Sullivan's personal solid walnut match table and ultimately installed with our time served fitters.

Each component will be machined and finished to the same exacting standards that you would expect from a quality English snooker table.
Each of the six standard cushions are made from 5 very solid inches of mahogany. Its this solid construction that give a predicable ball response and excellent game play.

Our steel block version has the tournament match specification machine steels included. These are bolted directly into the slate bed and gives a professional ball response that is second to no other table in the World. (don't forget our time served staff have supplied tournament tables to the World Snooker Association for over 10 years).
We use diamond bench precision ground slate beds and adjustable hardwood slate bearers as standard across this entire range.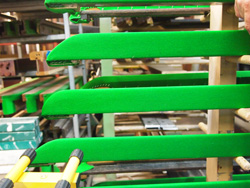 Northern rubber is fitted to all cushions along with genuine hide pocket leathers, nets and ballrunners.
Also Included in our price are all accessories for two persons to play a game of snooker.
2 x snooker cues, set of snooker balls, matching hardwood scoreboard, triangle, cross rest, long tackle, spider rest and chalk.
This total package ensures that you will be playing snooker the moment the fitters have finished their installation.
This handmade traditional solid hardwood snooker table will last more than a lifetime and will bring pleasure to all that appreciate the ultimate in cue sports.


Can be ordered in sizes: 12ft, 10ft, 9ft and 8ft. Use our room size guide on the FAQ page

Steel block cushions, new steel friezes are ordered and machined from our specialist engineering suppler if required.

All cushions and bed covered in the cloth of your choice, see cloth information below.

Cloth colour options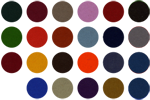 For normal use we would recommend the "Hainsworth Smart" range of wool napped cloth for durability. However all Strachan's range of cloths are available as well.
"more Cloth info below"

Prices as of 28/01/2021
Steel block cushion upgrade for fullsize tables £1300 extra on the listed price.

12ft Solid Walnut Majestic Snooker Table £5100
12ft Solid Oak Majestic Snooker Table £4500
12ft Solid Mahogany Majestic Snooker Table £4250

10ft Solid Oak Majestic Snooker Table £3850
10ft Solid Mahogany Majestic Snooker Table £3700

9ft Solid Oak Majestic Snooker Table £3600
9ft Solid Mahogany Majestic Snooker Table £3400

8ft Solid Oak Majestic Snooker Table £3200
8ft Solid Mahogany Majestic Snooker Table £3150

Delivery and installation is based on location. Most mainland Uk locations £200. e.g. London, Glasgow, N Wales.

Contact to discuss your requirements even if your room is under development.

ian@idonohoe.com 07969288786 Ian
Snooker Table Cloth information:

According to our experienced table fitters ( All time served with apprenticeships at Riley Snooker when the manufacturing base was here in Accrington and Padiham) Hainsworth Smart and Strachan 6811 are very similar giving a hard wearing 5 - 7 yrs use. You will pay £30 extra for Strachan 6811 as you are paying for their tv advertising but Hainsworth Smart is every bit as good.
This is the cloth that you will find in most of the snooker halls and clubs the World over.

Strachan Tournament & Hainsworth Match lasts around 12 months. This is the type of cloth you would find on a snooker hall match table. £100 extra on the price of any snooker table offered.

Strachan Match and Hainsworth Precision lasts only a matter of weeks! This type of cloth is what you would find in professional tournaments. £100 extra on the price of any snooker table offered.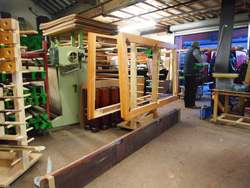 Our time served skilled staff have over 120 years experience between them in both technical design and 10 years experience in the manufacture of World Tournament Tables supplied to the World Snooker Association. The Majestic snooker table range has proved to be the first choice for the ultimate in cue sports.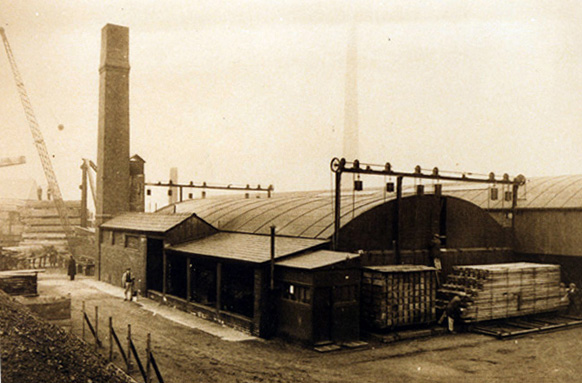 Above ..Times gone by... picture above of the unloading of African Mahogany from Leeds Liverpool Canal barges at Church Wharf nr Accrington. The two piles of snooker table legs and long side rails are seen here in the foreground having been through the process of "kiln drying". Also seen in the background the huge mahogany pieces being lifted by crane. These were rough sawn onsite into their approximate component sizes with the sawdust and off cuts used to fuel the kiln drying process. They were then transported by horse and cart 3/4 of a mile to the E.J Riley Factory in Dale St Accrington.
picture courtesy snookerheritage.co.uk


Only the very finest materials are used:
These tables are manufactured and are fully hand built from the very best materials available and manufactured in Accrington Lancashire by ex Riley employees. This is one of the few manufactures left in this country that has such a wealth of real skilled labour and delivers such fine craftsmanship and quality of service.
I Donohoe snooker of Accrington.