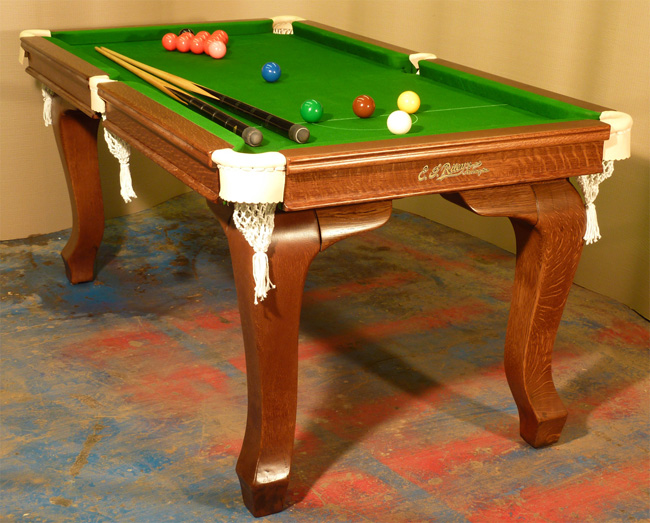 SOLD 5ft Antique E.J Riley of Accrington Snooker Dining Table with Cabriole legs in solid English Oak.
09/07/2020
The picture above taken in the workshop before delivery of the last table of this model we refurbished.
One piece Welsh slate bed.
Comes supplied with cue rest, 2 snooker cues, scoreboard and a set of 1" 7/8" snooker balls.
Solid Brass rise and fall mechanism to take the table from dining height to playing height.
4 Piece solid oak table top.
New Pockets, leathers and Nets.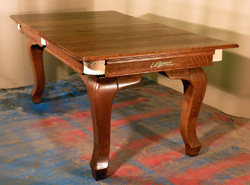 Brand new Hainsworth Smart Wool napped cloth. (colour of your choice, see below)
Outside dimensions are 66"inches x 36"inches. Inside playing area 56.5"inches x 26.5"inches. Playing height 32.5"inches dining height 29.5"inches.
Dining table top 68" x 38".
Manufactured in Accrington England circa 1930's.
Northern cushion Rubbers Fitted.
100% Pure Wool Cloth.
Precision Ground 1 piece 1/2" Welsh Slate bed.


Free NW England ground floor install and delivery, other areas usually £100 surcharge. (please ask)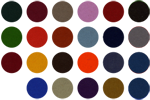 Manufactured and Refurbished In Accrington England.
If your room is under development, we understand that building works seldom go to plan and will hold the table until you are ready to take delivery. We are not a high volume manufacturer with most of our tables made or refurbished to our customers special instructions. ( we do things the old way ) To place an order a 20% deposit is required either by cheque or bank transfer. Work will start as soon as the deposit funds clear. The balance paid in cash or bank transfer at point of installation and your satisfaction. Please see our "Customer testimonials page for reassurance". Lead time 5 - 6 weeks.

09/07/2020 SOLD
Price including all accessories £1650
Deposit @ 20% = £330
Balance paid at install at your satisfaction £1320

Any questions; ian@idonohoe.com
07969288786

All our tables are fully refurbished in our Accrington snooker factory, Lancashire by ex E.J Riley employees.

Idonohoe Snooker Accrington Lancashire England
ian@idonohoe.com
Restorers of the highest quality
Snooker & Pool Tables in the Industry. Right here in Accrington Lancashire England.
Refurbished secondhand and antique tables.
SOLD 5ft E.J Riley Oak Cabriole Snooker Dining Table