6ft & 7ft New Solid Ash or Oak Refectory Pool Dining Table for sale
The Sovereign Refectory Pool Diner maintains excellent playing conditions on
a genuine slate bed whilst retaining all the elegance and function of a solid Hardwood dining table.
The picture above taken of the Oak 6ft Refectory Pool Diner in a mid oak finish. Can be polished in
natural, light, dark or mid as in picture above.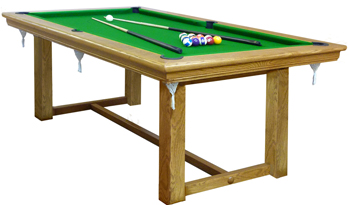 Matching solid oak benches can also be supplied if desired.
Square profile legs if preferred for your environment.
Comes supplied with 2 cues, cue rest, triangle and a set new pool balls.
Solid Brass rise and fall mechanism to take the table from dining height to playing height.
2 Piece matching veneered table top.
*Solid oak 18mm surround beading can be added to the top for extra quality.
1 piece 18mm solid slate bed.
Bag net pockets.

Hainsworth Smart Wool napped cloth, colour of your choice.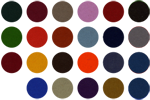 6ft Outside dimensions are 72"inches x 42"inches. Inside playing area 60"inches x 32"inches. Playing height 32.5"inches dining height 29.5"inches.
The 7ft table outside dimensions are 84"inches x 48"inches. Inside playing area 72"inches x 38"inches. Playing height 32.5"inches dining height 29.5"inches.
Six chairs can be accommodated around the 6 ft, and eight chairs around the 7ft.
8ft static height versions can also be made to order.

Free NW England ground floor install and delivery 20 miles of Accrington, other examples ...

London / Glasgow / Wales £100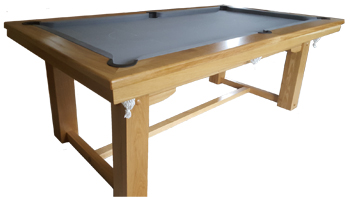 We don't have a showroom, this is reflected in our prices, however you are welcome to visit the workshop and see for yourself. Just call or email using the details below.
If your room is under development, we understand that building works seldom go to plan and will hold the table until you are ready to take delivery.


We are not a high volume manufacturer with most of our tables made to our customers special instructions.
( we do things the old way ) To place an order a 20% deposit is required either by cheque or bank transfer.
The balance paid in cash or bank transfer at point of installation and your satisfaction.
Please see our "Customer testimonials page for reassurance"
Lead time is usually 4 - 6 weeks.
Manufactured In Accrington England.
ian@idonohoe.com 0796928876 Ian.

2019 Prices
6ft Ash Pool Refectory £1595
6ft Oak Pool Refectory £1695
7ft Ash Pool Refectory £1695
7ft Oak Pool Refectory £1795
8ft Ash Pool Refectory £1795 (groundfoor install only)
8ft Oak Pool Refectory £1895 (groundfoor install only)

Matching solid oak benches for both 6 & 7ft versions £275 each or £475 pair
*18mm oak surround bead for top £30


All our tables are fully hand built from the very best materials available and manufactured in Accrington, Lancashire by ex Riley employees.
This is one of the few manufactures left in this country that has such a wealth of real skilled labour and delivers such fine craftsmanship and quality of service.