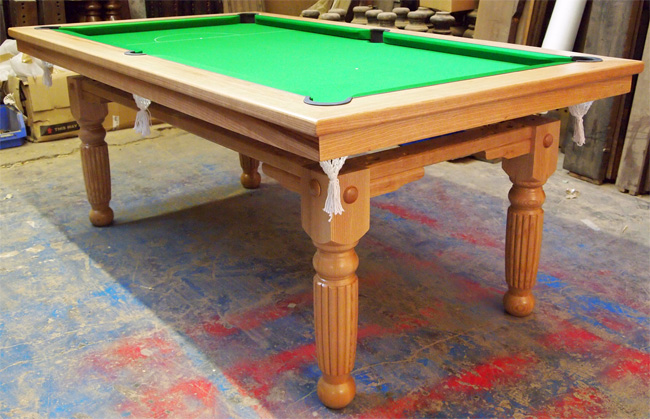 6, 7 & 8ft Sovereign Majestic Pool Dining Table
This Artisan made table is hand built to order in our Accrington factory by time served
ex Riley craftsmen. Can be ordered with either turned profile legs as above or square as below.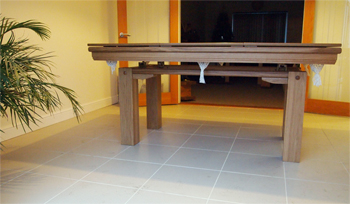 Manufactured from solid oak,
walnut, ash or mahogany.
Finished in any colour or stain combination you wish. for example "half natural oak, half solid colour".

Comes with 2 - 3 piece matching veneer top. Solid 18mm oak ash or mahogany table top beading can be fitted around the top if required for £30 extra.
Quality one piece 3/4" solid italian slate bed.
Northern rubbers fitted to all cushions for excellent ball response and industry standard
playing conditions.
Both cushions and bed covered in Hainsworth Smart 100% pure wool napped cloth.
Any cloth colour from swatch below.

Solid Brass rise and fall mechanism on the 6ft & 7ft models.
This takes the table from a standard dining height of 29.5" to playing height 32.5".
All our tables come supplied with the accessories for two persons to play a game of pool, two cues, triangle and set of pool balls and cue rest.
(Pool Tables can also be marked out for snooker and snooker balls can be ordered extra as are shorter cues if required.)

8ft table outside dimensions are 95" inches x 53.5" inches. Inside playing area 83" inches x 41.5" inches. 8ft tables supplied without rise and fall mechanism due to their weight and are made 1.5" inches higher than a normal dining table and 1.5" lower than the standard playing height. This gives slightly more leg room. Most people wouldn't notice but its worth mentioning.

7ft table outside dimensions are 84" inches x 48" inches. Inside playing area 72"inches x 38"inches.
Playing height 32.5"inches dining height 29.5"inches.
Leg room, floor to underside of bottom rail is 24".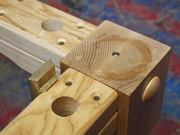 6ft Outside dimensions are 72"inches x 42"inches. Inside playing area 60"inches x 32"inches. Playing height 32.5"inches playing height 29.5"inches dining height. Leg room, floor to underside of bottom rail is 24".
Lead time is usually between 4 - 6 weeks.

Free NW England ground floor install and delivery, other examples ...
Stoke / Leeds £50
Birmingham / Newcastle £75
London / Glasgow / Wales £100
Falmouth / Highlands £175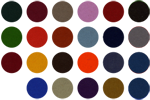 We deal direct from the factory and don't have a showroom, this is reflected quite a lot in our prices, however you are welcome to visit the workshop and see production for yourself. Just call or email using the details below.
If your room is under development, we understand that building works seldom go to plan and will hold the table until you are ready to take delivery.
We are not a high volume manufacturer with most of our tables made to our customers special instructions. ( we do things the old way ) To place an order a 20% deposit is required either by cheque or bank transfer.
The balance paid in cash or bank transfer at point of installation and your satisfaction.
Please see our "Customer testimonials page for reassurance"

Prices ( 15/10/2018 )

6ft Ash £1600
6ft Mahogany £1600
6ft Oak £1650
6ft Walnut £1750

7ft Ash £1675
7ft Mahogany £1675
7ft Oak £1725
7ft Walnut £1825


8ft Ash £1999
8ft Mahogany £1999
8ft Oak £2050
8ft Walnut £2150

All enquires; ian@idonohoe.com

07969288786 Ian.
All our tables are fully handmade in Accrington, Lancashire by ex Riley employees.

Idonohoe Snooker Accrington Lancashire England
ian@idonohoe.com
Restorers of the highest quality
Snooker & Pool Tables in the Industry. Right here in Accrington Lancashire England.
Refurbished secondhand and antique tables.
6ft, 7ft & 8ft Sovereign Majestic Pool Dining Table