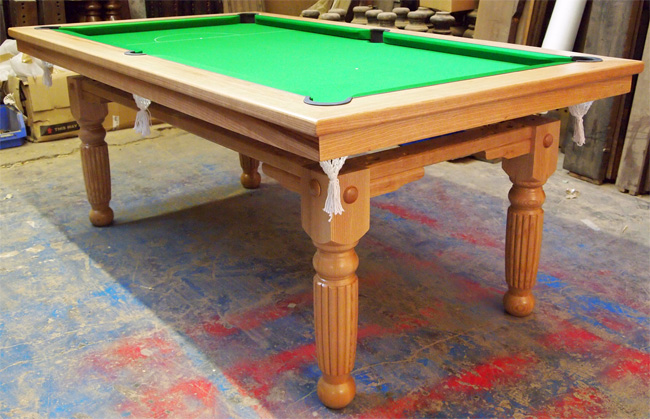 6 & 7ft Sovereign Majestic Pool / Snooker Dining Table
This table will be hand built to order in our Accrington factory by time served
ex Riley craftsmen.
Manufactured from solid oak or ash.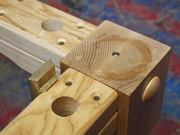 Comes supplied with cue rest, 2 cues, scoreboard, triangle and
a set of pool & snooker balls.
Solid Brass rise and fall mechanism to take the table from
dining height to playing height.
The 7ft table outside dimensions are 84"inches x 48"inches. Inside playing area 72"inches x 38"inches. Leg room, floor to underside of bottom rail is 24"
6ft Outside dimensions are 72"inches x 42"inches. Inside playing area 60"inches x 32"inches.
Playing height for both tables are 32.5"inches playing height
29.5"inches dining height.
Leg room, floor to underside of bottom rail is 24".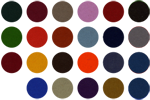 "This is a beautiful handmade to order Pool / snooker dining table. Can be made with square profile legs if desired.
Free NW England ground floor install and delivery, other areas usually £100 surcharge, but will take each enquiry on its own merit.
Manufactured In Accrington England.

Contact details below to arrange 20% deposit.
If your room is under development contact seller to reserve and arrange 20% deposit. We understand that building works seldom go to plan and will hold the table until you are ready. Cash balance paid at point of installation and your satisfaction.


2018 Prices
6ft Ash £1600
6ft Oak £1650
7ft Ash £1675
7ft Oak £1725


All enquires; ian@idonohoe.com
07969288786 Ian.
All our tables are fully handmade in Accrington, Lancashire by ex Riley employees.

Idonohoe Snooker Accrington Lancashire England
ian@idonohoe.com
Restorers of the highest quality
Snooker & Pool Tables in the Industry. Right here in Accrington Lancashire England.
Refurbished secondhand and antique tables.
6ft & 7ft Sovereign Majestic Pool Dining Table