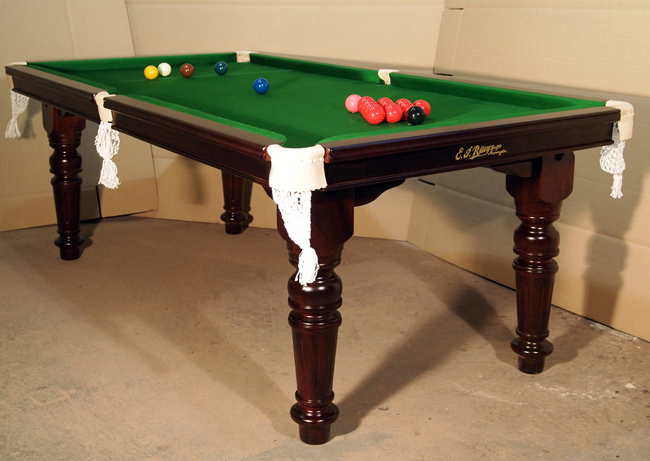 7ft E.J Riley of Accrington Snooker Dining Table in solid mahogany, circa 1930's
The picture above taken of a 6ft version of this model we refurbished a year or so ago.
Please note this table will be refurbished to the same very high standard.
Comes supplied with rest, 2 snooker cues, scoreboard and a set of 1" 7/8" snooker balls.
Solid Brass rise and fall mechanism to take the table from dining height to playing height.
Comes with NEW 3 Piece Mahogany veneered table top. The table was purchased without the original top and a new one will be made.
New Pockets, leathers and Nets.
Brand new Hainsworth Smart wool napped cloth.
Outside dimensions are 90"inches x 48"inches approx. Inside playing area 81"inches x 39"inches. Playing height 32.5"inches dining height 29.5"inches.
"This is a beautiful antique snooker table."


Made in the 1930's in Accrington England from solid African Mahogany.
Northern cushion Rubbers Fitted.
100% Pure Wool Cloth.
Precision Ground 1 piece 1/2" Welsh Slate.
Will also come supplied with 2 x new Snooker cues.
Set of New 1" 7/8" snooker balls, Cue Rest, Hardwood Scoreboard and Triangle.

Free NW England ground floor install and delivery, other areas usually £100 surcharge.
Manufactured and Refurbished In Accrington England.
Contact to arrange 20% deposit or if your snooker room is not ready to secure this table. Cash balance to be paid at point of installation to your satisfaction.

Price £1850

Any questions; ian@idonohoe.com
07969288786 Ian.

All our tables are fully refurbished in Accrington, Lancashire by ex E.J Riley employees.

Idonohoe Snooker Accrington Lancashire England
ian@idonohoe.com
Restorers of the highest quality
Snooker & Pool Tables in the Industry. Right here in Accrington Lancashire England.
Refurbished secondhand and antique tables.
*SOLD* 7 ft E.J Riley Snooker Dining Table For Sale