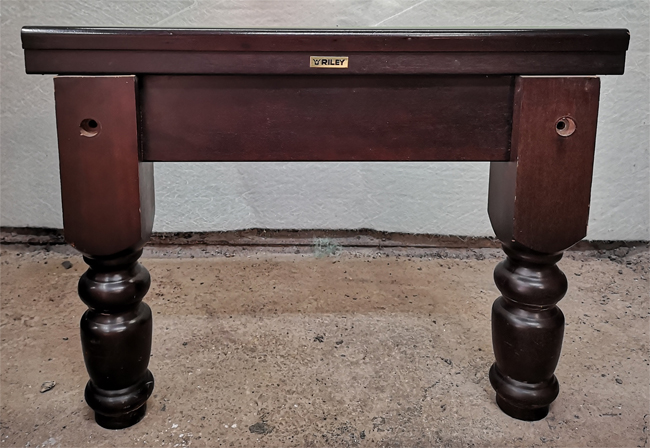 8ft Riley Club Snooker Table in solid mahogany (SOLD)
Latest news from the workshop: 22/09/2020 "Lead time at the moment is around 10 weeks"


8ft Riley Club Snooker table in solid mahogany for sale.
Circa 1990.
The table sits on four very solid turned legs.
One piece 3/4" Italian slate bed.

Overall table size 102.5" x 56"inches.
playing area size 92" x 45.5"inches.
Ideal room size 17' x 13' (518 x 396cm)
Table weight approx 350kg.

All woodwork to be totally stripped back to the bare wood. Any imperfections repaired and the complete table re-polished back to its original dark mahogany.
"It will look fantastic and play as new".
New pocket leathers, cotton nets and ballrunners are to be fitted.
Both cushions and bed cloth to be recovered in Hainsworth wool napped cloth.
This table will also come supplied with... 2 x new snooker cues. Set of 2" 1/16" fullsize Aramith snooker balls, triangle, short rossrest, scoreboard and chalk.
*Groundfloor delivery only* ( This is a very heavy slate 8ft x 4ft )
Free NW England professionally delivered and installed by one of the country's top installers "Sovereign Snooker Services".
Other mainland UK areas usually £100.
Lead time around 9 weeks from an order being placed to installation.
Contact to arrange 20% deposit or if your snooker room is not ready to secure this table.
Cash balance to be paid at point of installation to your satisfaction.
Made From Solid Mahogany
Northern Rubber Fitted
Hainsworth Smart Wool Cloth (colour of your choice).

Cloth colour options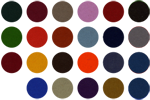 8ft Riley Club snooker table including all accessories SOLD £1900
Deposit @ 20% = £380

Balance of £1520 paid in cash or bank transfer at point of installation and your satisfaction.

If you would like to us to hold this snooker table until your snooker room is ready please give us a call or email to reserve.
Contact; ian@idonohoe.com

Ian.
Please see our "Customer testimonials page for reassurance".

All our tables are fully refurbished in Accrington, Lancashire by ex Riley employees.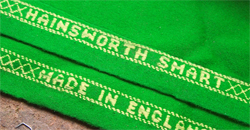 All our tables are fully refurbished in Accrington, Lancashire by ex E.J Riley employees.

Idonohoe Snooker Accrington Lancashire England
ian@idonohoe.com
Restorers of the highest quality
Snooker & Pool Tables in the Industry. Right here in Accrington Lancashire England.
Refurbished secondhand and antique tables.
SOLD 8ft E.J Riley Club Snooker Table in solid mahogany