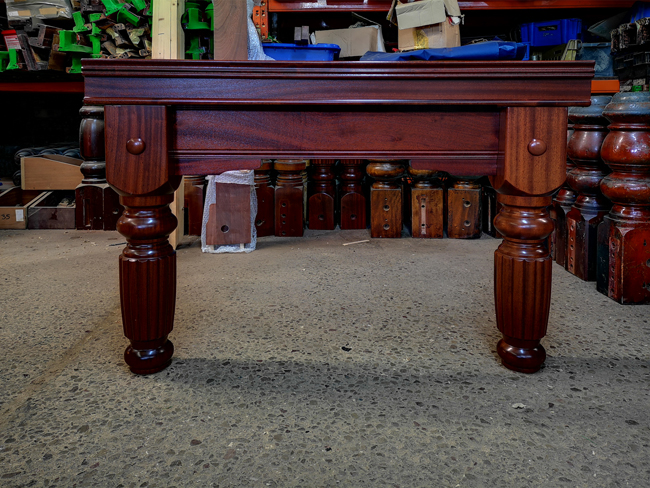 8ft Sovereign Majestic Snooker Dining Table in Solid Mahogany
This very table (pictured above) made in 2005 and manufactured in Accrington in our own workshop.
The previous owner has been forced to sell having moved to a smaller property.

A beautiful well engineered solid mahogany snooker dining table that has all the attributes of a high quality snooker table with the style of a fine dining table.
The table sits on 4 solid mahogany turned and reeded legs.
Supplied with a three piece mahogany veneered skirted table top. (this skirted type of top hides the pockets by overhanging the edge of the table)
Three piece 1" inch solid slate bed.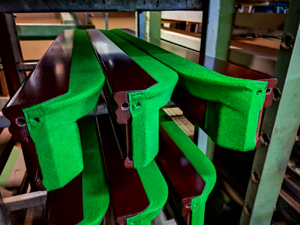 Slate size 8ft x 4ft.
Overall table size 102.5" x 56"inches to outside of cushions.
playing area size 92" x 45.5"inches to inside of cushions.
Ideal room size 17' x 13' (518 x 396cm)
Table weight approx 400kg.

Even though this table is in remarkable condition, all exterior facing woodwork to be stripped back to the bare wood. Any slight scratches or imperfections sanded out and the complete table re-polished back to its original state. This table to be finished in a mahogany shade of your chioce.
"It will look fantastic and play as new".
New pocket leathers and nets are to be fitted, cushions and the bed cloth to be recovered in 100% English wool napped cloth and a colour of your choice.
This table will also comes supplied with... 2 x new quality snooker cues, set of new snooker balls, triangle, cross rest and a matching hardwood scoreboard.

Free NW England professionally delivered and installed by one of the country's top installers "Sovereign Snooker Services".

Other delivery price examples ...

London / Glasgow / Wales £100

Refurbishment usually takes around 4 - 6 weeks from an order being placed to installation.

Made From Solid Mahogany
Northern Rubber Fitted
100% Pure Wool Cloth (colour of your choice).
3 piece precision ground 1" Italian Slate bed.

Hainsworth Smart cloth
swatch.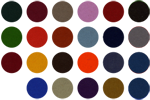 Please call or email using contact details below, feel free to ask any questions.
If your room is under development, we understand that building works seldom go to plan and will hold the table until you are ready to take delivery.
We are not a high volume manufacturer with most of our tables made to our customers special instructions.
( we do things the old way ) To place an order a 20% deposit is required either by cheque or bank transfer.
Work will start as soon as the deposit funds clear. The balance paid in cash at point of installation and your satisfaction. Please see our "Customer testimonials page for reassurance".
2019 Price
Table inc accessories £1850
Deposit @ 20% = £370
Balance of £1480 paid in cash or bank transfer at point of install and your satisfaction.

Enquires; ian@idonohoe.com

Ian: 07969288786

All our tables are fully refurbished in Accrington, Lancashire by ex E.J Riley employees.


Idonohoe.com

Idonohoe Snooker Accrington Lancashire England
ian@idonohoe.com
Restorers of the highest quality
Snooker & Pool Tables in the Industry. Right here in Accrington Lancashire England.
Refurbished secondhand and antique tables.
8ft Sovereign Leisure Majestic Snooker Dining Table in Solid Mahogany