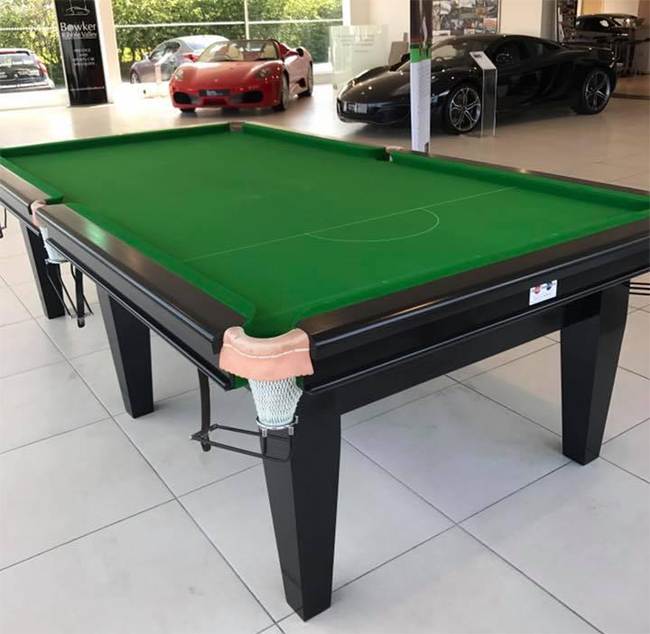 9ft Artisan Snooker Table Circa 2012 Ex Display.

Latest news from the workshop: 09/07/2020 "Lead time at the moment is around 9 weeks"


This contempory snooker table from our very own Workshop has the proper 6 leg design and comes with ajustable internal slate beareres.
Precision ground 5 piece 1" 1/2" Slate.
New nets and leathers / ball runners. New northern rubbers fitted to all cushions.
New Hainsworth Smart Wool napped cloth with colour of your choice.

It is in fabulous condition and has been used for display purposes.
Table made form solid hardwood and finished in a rich gloss black polish. Once refurbished will look and play as new.

Table will also come supplied with cue rests, two snooker cues, scoreboard and a set of new Aramith snooker balls, triangle and chalk.

Ideal unobstructed playing area and room size with 54" cues. 18ft x 13.5ft (549cm x 412cm)


Lead time at the moment is around 9 weeks from deposit being placed to installation.
09/07/2020 Table price £2200 inc all the above. (new price £3400)
Deposit @ 20% = £440
Balance of £1760 paid at point of install and your satisfaction.

Free NW England professionally delivered and installed by one of the country's top installers "Sovereign Snooker Services".
Other mainland UK usually £100.


Any questions; ian@idonohoe.com
Ian: 07969288786



Manufactured and Refurbished In Accrington England
Idonohoe Snooker Accrington Lancashire England
ian@idonohoe.com
Restorers of the highest quality
Snooker & Pool Tables in the Industry. Right here in Accrington Lancashire England.
Refurbished secondhand and antique tables.
9ft Black Gloss Artisan Snooker Table