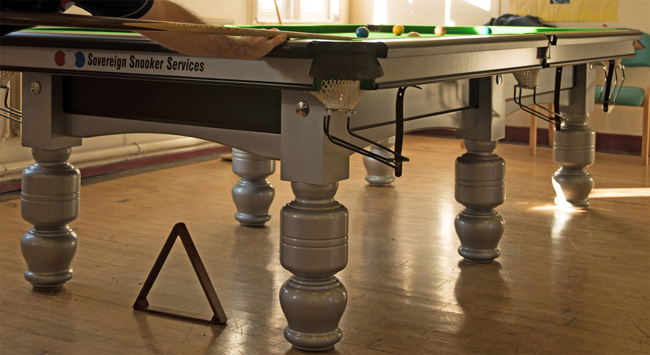 9ft Steel Block China Black Snooker table
Sovereign Sooker Services China Black 9ft Steel block Snooker table.
3 piece 1.5 "inch solid slate bed.
This table will come supplied with 2 quality cues, set of new snooker balls, scoreboard, cross rest and triangle. In fact all you need for two persons to play a game of snooker.
Playing area 99" inch x 48.5" inch
Overall size 111" inch x 60.5" inch

Steel Block cushions.. I am reliably informed that this table has an unbelievable ball response.
Free NW England delivery and install. Other delivery Uk Mainland eg London, Glasgow, Wales £100.

If your snooker room is not ready and to arrange a deposit of 20% please call, text or email. Cash balance to be paid at your satisfaction at point of installation.

All our tables are made in Accrington, Lancashire by ex E.J Riley employees.

Idonohoe Snooker Accrington Lancashire England
ian@idonohoe.com
Restorers of the highest quality
Snooker & Pool Tables in the Industry. Right here in Accrington Lancashire England.
Refurbished secondhand and antique tables.
9ft Steel Block China Black Snooker /Pool Table

2018 Price
UK Ground floor delivery / installation by Sovereign Snooker Services fitters.

Cloth colour options


9ft China Black Steel Block Snooker Table
3 piece, 1.50" slate
6 leg
£3250.00
North West England Free Delivery and Install. UK mainland usually £100 fuel surcharge.
Export and Installation service

If you would like to us to hold this snooker table until your snooker room is ready, a deposit of 20% will be required.
Payment either through paypal, Cheque or bank transfer.

Cash or bank transfer at point of insatllation to your satisfaction
email to arrage:ian@idonohoe.com