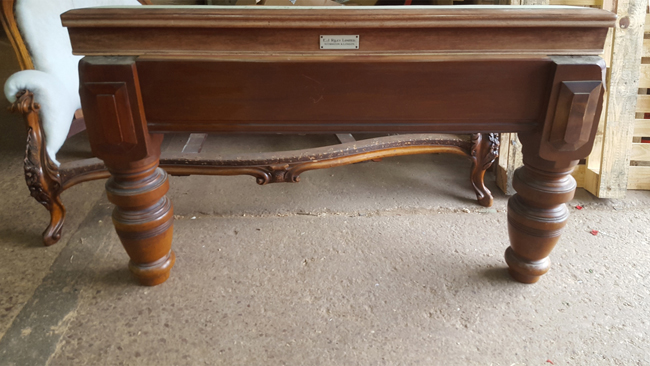 9ft E.J Riley Snooker Table in Solid Mahogany
Manufactured in solid African Mahogany. Circa 1910

Precision ground 5 piece 1" 3/4" Welsh Slate.
This substantial table has the 6 leg design and has the over engineered solid mahogany cushions are very responsive indeed.
New nets and leathers / ball runners. New northern rubbers fitted to all cushions.
New Hainsworth Smart Wool napped cloth with colour of your choice.

It is in fabulous condition although this table will still go through the full process of refurbishment.
All exterior facing woodwork will be stripped and sanded, any imperfections repaired and the table finished in a rich satin dark mahogany or natural mahogany satin polish. Once refurbished it will look and play as new.

This 9ft E.J Riley table will also come supplied with cue rest, 2 snooker cues, scoreboard and a set of new snooker balls, triangle and chalk.

Ideal unobstructed playing area and room size with 54" cues. 18ft x 13.5ft (549cm x 412cm)


Refurbishment usually takes around 4 - 6 weeks from an order being placed to installation.
18/08/2019 Table price SOLD £2350 inc all the above.
Deposit @ 20% = £470
Balance of £1880 paid at point of install and your satisfaction.

Free NW England professionally delivered and installed by one of the country's top installers "Sovereign Snooker Services".
Other mainland UK usually £100.


Any questions; ian@idonohoe.com
Ian: 07969288786



Manufactured and Refurbished In Accrington England
Idonohoe Snooker Accrington Lancashire England
ian@idonohoe.com
Restorers of the highest quality
Snooker & Pool Tables in the Industry. Right here in Accrington Lancashire England.
Refurbished secondhand and antique tables.
SOLD 9ft E.J Riley Snooker Table Circa 1910