Not see what you are looking for?
. .. Please email or text 07969288786 Ian.

To the right is a handy table room size guide.
You need around five feet of space between the cushion rails and the surrounding walls or furniture. Most full size snooker and pool cues are 57" in length. However there are few recreational rooms that do not have some sort of obstacle that interferes with play. Sideboards, fireplaces, furniture all affect cueing action. An additional cue can be cut down to suit these areas.

"What if I want my table installing on the 11th floor?"
Well "if there's a will then there's a way". Just remember... A full size table has 5 slate pieces, each of them 6 ft x 2ft 3" and weighing about 200kg. Then there is the 10ft long by 15" wide x 2" side rails. We need enough room to maneuver these items in.

Match the colour of my current furniture

You may have any *RAL colour. *(this means any colour within the paint industry. RAL is the recognized standard colour coding for the mixing of paints and lacquers.)

Many of our customers chose to reserve a particular table they like until their snooker room is ready. We also understand that building works rarely go to schedule. As long as we are kept informed we will hold your table until you are ready at no extra cost.


Cloth and colour's..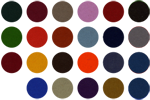 We use the Hainsworth Smart range of wool napped cloth for all but a few of our snooker table refurbishments and installations.
This cloth above all has been chosen as the industry standard throughout the country.
It's a very popular cloth that is found in most snooker clubs and private residences. Its is hard wearing, reliable and only requires replacement perhaps every 5 - 6 yrs even with regular use.

Strachan 6811 has similar properties to the Hainsworth Smart and can be ordered separately if desired. There are other specialist cloth choices however that can be ordered.

According to our experienced table fitters ( All time served with apprenticeships at Riley Snooker when the manufacturing base was here in Accrington and Padiham) Strachan Tournament & Hainsworth Match lasts around 12 months. Strachan Match and Hainsworth Precision lasts only a matter of weeks! These are all at least £100 extra on the price of any snooker table offered.

Our American Pool tables are supplied in any of the colour's available within the Hainsworth Elite Pro cloth range. Again this is the industry standard and is durable enough even to be played outdoors. The upgrade in this instance is to the Simonis Cloth which is around £30 extra per table. Pro cup pool American pool Balls can be ordered for £125 extra.
Snooker and Pool slate sizes..
6, 7, 8, and 9ft Snooker tables have a larger slate and hence give a bigger playing area than their Pool table counterparts. For example
A 6ft snooker table playing area is actually 69" x 33"
A 6ft Pool table playing area is actually 60" x 32"
A 7ft snooker table playing area is actually 81" x 39"
A 7ft Pool table playing area is actually 72" x 38"
A 8ft snooker table playing area is actually 92" x 45.5"
A 8ft Pool table playing area is actually 83" x 41.5"
We can pick up and remove unwanted tables and sometimes pay and collect if its good example. Please send any information e.g. images, age and condition.
It can take up to a day to remove a table depending on location.
Manpower, fuel, time and storage space are the enemy when uninstalling.
Some of our tables may be in storage for a few years until the right buyer comes along.
It takes at least two people to remove or install a ground floor table, four if it involves a set of stairs. Hopefully if you can muster some help then all the better. This is especially helpful on some first floor installations.
All fullsize and muti-slate installations are carried out by Sovereign Snooker Services whose staff have been involved in the manufacture, restoration and installation of Snooker/ Pool tables for over 35yrs.
All work is guaranteed and if you should need any after sales help then they can schedule in a visit if they are in your area or give advice over the phone or email.
Buy / Pay Deposit
We can take a deposit and hold the snooker table if your room isn't ready yet. If you would like to secure one of our tables, a deposit of 20% would be required. Payment either by cheque or bank transfer. The balance is paid in cash or bank transfer at point of installation and your satisfaction.

Ultimately this table is going to be refurbished especially for you. So pick up the phone if you have any questions, send a text or drop me an email. Email is usually best to start with. It gives me chance to gather my information together. I will usually respond within the day.
ian@idonohoe.com
07969288786


Ian Donohoe.