New Snooker and Pool Tables
All new snooker and pool tables are manufactured in our Accrington factory by time served ex Riley employees.

Between them these craftsmen have over 120 years in the manufacture and design of Riley Tables at a time when workmanship and pride was paramount.

These Artisan range of snooker and pool tables are beautifully made and built to last.
Solid hardwoods like Ash, Oak, Popular or Mahogany are used extensively in the construction of the Frame, Legs and Cushions.

All are machined using the same over engineered dimensions that give a solid predictable ball response which go beyond the industry standard.
This together with Northern cushion rubbers, pure wool napped cloth and solid slate beds give our customers a real high quality table that is a joy to look at and play.
As a manufacturer, we are also able to create one off designs for our customers who perhaps fancy something a little more contemporary or different.
Table tops can be made to suit any table to maximize its use in an domestic environment.
Our highly qualified workforce will cater for your requirements from initial design to fitting into your environment.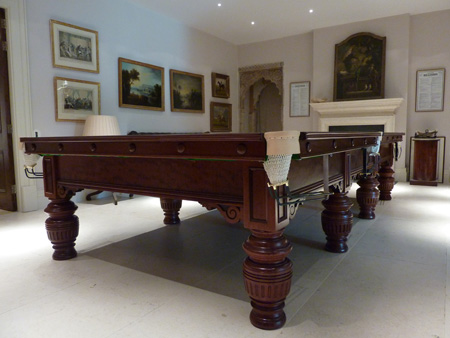 Secondhand / Pre owned Snooker Tables

We tend to stock only quality secondhand snooker tables with the likes of E.J Riley, Burroughes and Watts, Orme & Sons, Thurstons, Riley Burwatt, Sovereign Leisure, Allied Billiards, Willie Holt and Jelks.
Its these manufactures who set a high standard with good solid design, used quality materials and skilled craftsmen.

As a consequence its these well made snooker tables that we seek out to refurbish.
Quality older tables have solid timber frames and cushions which are satisfyingly over engineered and have seasoned and settled. These tables were built to last.

What's even better is that once fully refurbished they look and play like new.
Our Snooker Table Refurbishers are all time served ex Riley employees with over a century of experience between them.
Its these craftsmen that will restore and refurbish your table.

Once an order is placed, all exterior wood work will be stripped and sanded, any imperfections repaired and the table re-polished back to as new factory finish.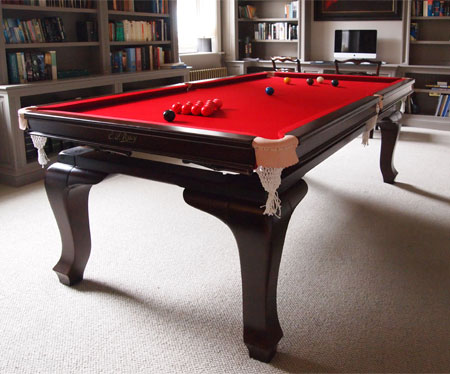 New northern cushion rubbers will be fitted, new pocket nets, ball runners and leathers. New bed cloth supplied and fitted.

Buying a snooker table is much more than clicking a "buy it now" button. Your room may not be ready yet, you probably have many questions and may have seen the perfect snooker table for sale and wish to place a deposit.

Some clients like to email their project details and seek advice on what's best for them.


We can assure you that when we refurbish your snooker table, it will be done to a very high standard using all the know how and finest materials available.
We will also supply a set of new snooker cues and other accessories FOC with every table sold.

As our factory is situated in Accrington Lancashire we usually offer free install to our NW England customers, however delivery and installation to most other mainland Uk locations can be had for £100.
Be wary of imported snooker tables as these are largely made from MDF and manufactured in the Far East where unseasoned timber, poor build quality and cheap saggy slates has seen many imported tables developing splits and suffer from warping!

A secondhand refurbished quality table from us will outlast and out perform any imported snooker table.
Testimonials... Below are some genuine spontaneous letters received from satisfied customers. The most recent from the top. I deliberately do not give their full names or address.
5ft E.J Riley Snooker Dining Table
( Bristol ) 14/09/2019

Hi Ian, The fitters arrived exactly on time and installed the table this morning. I am really impressed with the quality of the table and very happy with it. See pictures..

---
12ft Riley Classic Aristocrat Snooker Table
( Castleford ) 22/02/2019

Ian - Just wanted to say a massive thanks. It is absolutly fantastic. Great suggestion for the lights.
Jonathan.

---
7ft Oak Special Pool Dining Table
( Diss ) 21/02/2019

Hi Ian
Just wanted to say thank you very much for your excellent service. We are really pleased with the pool table and it looks really good. The fitters were very friendly and helpful.
Regards,
Paul.

---
12ft Riley Perfection Snooker Table
( Hexham ) 22/01/2019

Ian,
Just a couple of photos to be going on with - table is fantastic and for 100 years old it is in amazing condition - it almost looks too new. The room still has to be decorated, windows cleaned etc and needs a few tweaks so it looks rather scruffy on the photos. I will try and send some in the future when the room is complete with some furniture. Regarding the fitting service, Graeme and Stuart were brilliant, particularly considering their 5-30 morning start and a 2-1/2 hour journey. All completed in 4 hours and it was a pleasure chatting with them as I handed over the occasional coffee. I was amazed how quickly and accurately the levelling process was and Stuart explained the process as he progressed - fascinating.
Many thanks to you and your colleagues for an excellent service from start to finish.
Jon

---
12ft Riley Imperial Snooker Table
( Ipswich ) 17/01/2019

Hi Ian, I just wanted to say a huge thank you for the snooker table installation today, the table is superb and I am over the moon with it. It has far excelled any perceptions I had. I also wanted to say many thanks to the installation guys who were very professional, and pleasant to talk to. Rest assured I know I will have many a happy years using the table. Thank you again Ian, you and your company are first class and I would recommend you highly. Kind regards,
Tom

---
8ft Sovereign Leisure Majestic Snooker Table

( Inverness ) 12/12/2018

Ian I just wanted to say i am truly amazed, overjoyed and lost for words at the quality of the Snooker table. I was not expecting such an amazing table and all the accessories included. The fitters were a so professional and a pleasure to talk to about their knowledge and experience. Thanks again and my very best wishes. Grant

---
8ft Sovereign Leisure Majestic Snooker Table
( Isle of Arran) 11/12/2018

Hi Ian. What a great pair of guys Graeme and Stuart are, top men.
Thanks for all your guidance through the whole process, and what a fantastic table, beautifully restored and spot on. Iíve sent some dodgy photos, no electric yet in the room!!! I will send some better ones when the room is finished. Superb service from you all.
Cheers and Happy Xmas From a happy bunny. Deryk.

---
12ft Birmingham Billiards Classic Royal Snooker Table
( Leeds) 27/11/2018

Good morning Ian, thank you for the table itís perfect, not slept since itís been fitted. A big thank you also to your fitters excellent pride and detail in their work, can 100% recommend your company to any and everyone.

Don.

---
6ft E.J Riley Snooker Dining Table in solid Mahogany
( South Wales) 24/11/2018
Hello Ian, Our table that you refurbished is back with us and to say we are delighted is an understatement. The workmanship is of the highest standard and the table looks great. I have played my first game on it and I look forward to hours of enjoyment from it in the future. Many thanks to the lads again, it was pleasure to deal with them.

Regards Mike.

---
10ft Burroughes & Watts Snooker Table in solid Mahogany
( Egramont, Cumbria) 26/09/2018
I was very pleased with the way Ian and his team of fitters, who done an excellent job of fitting our 10ft Burroughes and Watts snooker table. The guys said they would arrive at 8.30 am and on the minute they arrived! Nice guys, very helpful and above all else excellent workman ship in installing what is a second hand table, even though it looked brand new. I cannot recommend Ian Donohoe enough, great team and excellent sales, after sales. A very happy customer..

Tim

---
9ft Sovereign Snooker Table in solid Mahogany
( Newport S Wales) 25/07/2018
Ian, great job done by the guys this morning. Look forward to receiving the scoreboard tomorrow ( they where going to have it delivered ) Very professional guys and table is great - would definitely recommend you to friends. Will send some pics across if you wish. All the best,
David.
---
7ft Sovereign majestic snooker table in solid oak
( S.E France ) 20/07/2018
Hi Ian, Beautiful, extraordinary, sublime !!! I want to tell everyone, and you can believe me, that you can trust Ian Donohoe completely. Contact, advice, manufacturing, everything is perfect. I invite anyone to come and see this wonder if you go to the east of France ! Thank you Ian for this achievement. Thank you to everyone who participated.
Kind regards. Stephane
---
4 x fullsize Allied Billiards Snooker Tables
( The Rack Shack Whitehaven Cumbria ) 22/06/2018
The tables look brand new. We're really happy with them and with the service.
Regards
Karl
---
8ft E.J Riley Snooker Table
( California ) 05/06/2018
Love the new table

Mark
---
10ft Riley Oak Imperial Snooker Table
( Kendal ) 29/05/2018 Hello Ian, Just like to say how delighted we are with our snooker table that was fitted today. Graham and Stuart did a fantastic job putting it together and leveling it on our wonky floor. The style and finish is amazing and fits beautifully into our 1920ís, 1930ís house. Many thanks again,

Derek and Kate
---
7ft Solid oak Majestic Pool Dining Table
( Congleton ) 05/05/2018 Just wanted to drop you a quick note to say how how impressed we are with the pool table. Quality is excellent. And thanks to the guys who installed it over the bank holiday week-end!

Best regards, Steve
---
7ft Solid oak Snooker Table
( Todmorden ) 28/04/2018
Ian, Really pleased with the table. Great quality and plays great. Many thanks to all involved.
Mike.

---
6ft Sovereign Majestic Snooker Dining Table in solid oak
( Solihull ) 14/04/2018
Hi Ian Thanks again for all your help, the snooker table looks great and we have had hours of pleasure already. The table quality is superb and the fitters were great nice and easy installation with no fuss and the table runs perfectly true. I will recommend to all my friends excellent service and products thanks again,
Russell.

---
7ft Sovereign Refectory Pool Dining Table in solid oak
( Rugby ) 24/03/2018
Hi Ian,
thank you very much really pleased with table especially the light oak and the extras can't leave you ebay feedback but table is quality cheers,

Justin

---
7ft E.J Riley Snooker Dining Table in solid mahogany
( Romsey, Hampshire ) 14/02/2018
Hi Ian,
Thanks for the successful delivery of the table. The fitters did a great job and the workmanship on the table is outstanding.

Best wishes,
Richard
---
12ft Full size Riley Aristocrat Classic Snooker Table in solid mahogany
( Fleet, Hampshire ) 01/02/2018
Hi Ian,
What can i say, quite taken back by the quality of the workmanship for a Riley 1971 table, service of installation was great as well, the 2 gentlemen you sent over were very professional in there installation, i was a little unsure on what i might received but I'm blown away by what i now have, i can see many years of happy playing and i am truly grateful for your service, the table has come to a good home will be looked after and cherished for many years to come. Send my regards to your restorer as well he has achieved a superb quality finish, the service received from all has been excellent. Just christened the baby and happy to say i won against myself.... Picture attached feel free to use along with my thoughts above. Regards,

Danny White
Fleet, Hampshire.
---
12ft Full size Riley Imperial Snooker Table in solid mahogany ( Derby ) 26/01/2018
Hi Ian,
I just wanted to say that the table is absolutely amazing, better than I could of imagined!. I have attached a photo to show the table in it's new home. I can't believe it is a refurbed table, I will recommend you to anyone and also write a review on your site in due course! Thanks
Ben.
Derby.
---
6ft Sovereign Pool Oak Dining Table ( Castleford West Yorkshire ) 23/12/2017
Hi Ian,
Just wanted to pass on our sincere thanks for the fantastic table. The fitters did a superb job putting it up as they were friendly, efficient and knowledgeable about their craft. They gave me some great tips in looking after the cloth and made sure the table played completely true before leaving. It looks amazing and the table itself is of such quality and looks majestic.
Many thanks,

Richard and Lucy
Castleford
West Yorkshire
---
12ft fullsize Burroughes & Watts Tulip Leg Snooker Table in solid mahogany ( Chorley ) 22/12/2017
Hi Ian,
I just wanted to say a massive thankyou to you and everyone that has been involved in providing the snooker table. I cannot believe how good it looks and I am absolutely delighted with it. Throughout the whole process from our first discussion to completing the installation today it has been a pleasure to deal with you and everyone else involved. I cannot thank you enough for providing me with such a beautiful item and your service is a credit to you. I would highly recommend you to anyone who needs anything to do with snooker.
Regards,
Dave.
---
7ft Sovereign Majestic Pool Dining Table ( Sussex ) 21/12/2017
Hi Ian, Thanks so much. We are absolutely delighted!!! If you ever need a recommendation for excellent product and service, please let me know. Your installation guys were brilliant. Thanks again and have a great Christmas.

Regards
Clare.
---
12ft Allied Billiards Consort Snooker Table ( Dorset ) 12/12/2017
Hi Ian.
Guys installed the table today and were fantastic.
Really pleased. Only had time for a couple of frames so far but it's playing well.
Thanks very much for your patience and service.
If you're ever down this way and fancy a frame, give me a call.
Much appreciated.
Tristran.
---
7ft Solid Oak E.J Riley Cabriole Snooker Dining Table ( BC Canada )
Ian,
I wanted to send a note to say the table was received this past Friday.
The very sturdy crate arrived in good shape and when I opened it the packing was first class.
I was able to set it up on Saturday morning and have been enjoying it ever since.
I have attached some pictures of it in its new home! Thank you again
If you are reading this review I can say Ian was incredible to deal with.
I live in Canada and had wanted a 7' pool diner for many years.
Ian helped me every step of the way, he gave regular reports of table's progress and was
quick to respond to my many questions.
I ended up with a custom table with stain and cloth match to my exact request.
Thank-you again

Cal
---
12ft Solid Oak Riley Imperial Snooker Table ( Worthing )
Dear Ian

I just want to take some time this evening to email you regarding the snooker table which was installed at my home on Tuesday.

The table is, as far as I am concerned, fantastic. It is a beautifully restored quality piece of furniture and is certainly the best looking and best performing table I have ever played on. The two men who you arranged to deliver and install the table were brilliant too and sing your praises as someone who "restores faith in humanity". I am not quite sure what your motives are for providing such good value tables, perhaps you will share your reasons? Either way the table far surpasses my expectations, which is a surprise as I am regularly described as fussy. Whatever that means.

With this amazing table I get to have a thing of beauty in my house. Happy days.

Thanks again for all you have done start to finish.

Steve

---
8ft Allied Billiards Snooker Table ( North London)
Hi Ian

Just to say that my table has been received and installed.

Your fitters were lovely people and did a cracking job. They actually arrived 45 minutes before the due time of 8:30am!

The table looks fantastic – thanks so much.
Paul
---
12ft Burroughes & Watts Record Snooker Table ( Chorley Lancs )
Hi Ian,
Many thanks for our Burroughs & Watts snooker table, its truly superb.
The colour of the wood is also perfect, just what we wanted.
The Fitters were also top class, couldn't ask for more.

Best Regards,
David
---
10ft Riley Renaissance Snooker Table ( Herts)
I just couldn't wait to let you know how delighted we are with the snooker table! It is amazing, in perfect condition, and looks stunning! I am totally over whelmed and cannot thank you enough! The fitters were also great guys and did an amazing job, even hoovering up when they were done! Thank you again! Many Thanks From a very happy family!!!
Traci
---
Fullsize Riley Viceroy Snooker Table in Solid Oak ( Devon)
Hi Ian Just like to say thank you for all your hard work & service, table is absolutely fantastic couldn't be any happier, I will look after it & enjoy it for many years to come, also thanks for the scoreboard, puts my bce plastic one to shame, Stuart's done a fantastic job installing it & also gave me some useful maintenance tips. Once again thanks Ian for your superb workmanship on the table. Thanks,
Gary.
---
5 x fullsize Riley Pine Regis snooker tables to the Nugget Snooker Klub, Zagreb. Croatia.

Hi Ian, Everything perfect, I am so happy. Pictures here..
Alexander
5 Pine Regis Snooker Tables refurbished, with two of our fitters flying out to Zagreb to assemble and install.
---
7ft E.J Riley Cabriole Snooker Dining Table. Hereford.

Hi Ian, Sorry for the delay, just wanted to say a quick thanks to you & the guys at Sovereign for the table I recently purchased from you. Really pleased with it & it looks great in my newly decorated dining room. I feel justified in my decision to buy a refurbished 'antique' table over the similarly priced modern day equivalents as I very much doubt the quality of them would be anywhere close to the Riley table you supplied to us. Thanks again.
T.
---
9ft Sam K Steel American Pool Table. Altrincham.
Ian.
The table is great, exactly as I pictured it. The chaps who brought it were great too. Hopefully this picture gives you an idea of how it looks in my bar.

Thanks again.

Eamonn.
---
8ft E.J Riley Snooker Table. Nottingham.
Hi Ian I would like to say a big thankyou your table is excellent and your fitters were brilliant, I'm very happy.

Razeem.
---
9ft Sam K Steel American Pool Table. Swindon.
Hi Ian, Sorry for the slowness of the note, I've obviously been playing all day :-). I just wanted to let you know that I'm over the moon with the new table. All in all, I don't see how the experience could have been any better. You have been amazing to deal with and the fitters (Stuart and Graeme) were absolutely top class. Sadly it's becoming increasingly rare these days, but I can honestly say that both yourself and your fitters have exceeded my expectations in absolutely every possible area. Should I come across anyone looking for a pool or snooker table I would without question send them to you. Thanks so much for a wonderful purchasing experience.
Regards
Trev.
---
6ft E.J Riley Snooker Dining Table. Liverpool.
Just wanted to say thank you - we have already enjoyed some games of snooker and pool. We also wanted to thank your fitters who were courteous, helpful, and knowledgeable.
Kind regards
Nadine.
---
12ft Riley Pine Regis Snooker Table. Leeds.
Many thanks for your service and the professional installers you use. Table looks great and plays great! If you would like me to give you a review or testimonial don't hesitate to ask regards,
Andrew.
---
12ft Riley Aristocrat Snooker Table. Bournmouth
I just wanted to say how pleased we are with the quality of the snooker table. The fitters were superb - friendly and very helpful with tips for maintaining the table from this point on. All in all, we couldn't be more pleased. Thank you so much.
Jim.
---
8ft Riley Renaissance Snooker Table. North London
I have to say I'm absolutely delighted with it, the quality is really fabulous and it's just what I was after. The whole family is looking forward to many years of pleasure playing on it. The installers were also consummate professionals and great to deal with.
Kind regards,
Adam
---
9ft Sam K Steel Pool table. North Wales
Hi Ian
Just a quickie to say how delighted we are with the pool table.
Graham and Stuart did a fantastic job ,taking the time to ensure it was in the right spot.
Many many Thanks
Graham
North Wales
---
Ebay feedback



9ft Riley Renaissance Snooker Table free NW England delivery
Absolutely fantastic table, rapid professional installation service.
Ian Thompson
---
12ft Riley Club snooker table. Darwen
Just a message to thank you for a superb snooker table you installed. The table is refurbished to a very high standard and took 5 hrs to install to perfection well worth the £1750. Just looks like a brand new table and I would highly recommend these guys to fit you a snooker table thanks from a satisfied customer.
Andy Sharples from Bolton Road Darwen.
---
12ft E.J Riley Solid Oak Imperial. Shrewsbury
Thanks Ian.
Everyone commenting on the table, haven't managed a 147 yet! Many Thanks
James O, .
---
6ft E.J Riley Oak Barley Twist leg. North Yorks
Hi Ian,
Really pleased with it. It's what we expected and we were not disappointed.
Regards John
John H, Bridlington.
---
8ft E.J Riley mahogany, four piece slate.
Hi Ian,
Just a note to say how pleased we are with the snooker table. Many thanks Jon.
Jon, Nottingham.
---
Ebay feedback



7ft Imperial Solid Ash Pool Dining table, free install 50 mile radius
Top quality pool dining table. Brilliant service, table delivered in 6 days!
---
Full size Riley Imperial in dark mahogany
Hi Ian, table arrived today, the fitters turned up bang on time. I just want to say the table is more than I could have hoped for, its just like a new one. Both the fitters worked hard and their workmanship is second to none. true craftsman and a pleasure to speak to. I have recommend you to a friend of mine who hopes to follow in my footsteps and convert an out building next year to a snooker room , he has yet to see mine but I know that he will be very impressed when he does . Many Thanks to you and the fitters.
Phil, Widnes.
---
Full size Allied Billiards Sovereign
Hi Ian Just writing to say how delighted I am with the snooker table. It's true, the finish is as new and the quality of service and product has surpassed all of my expectations. Thank you for everything and pass my appreciations to Mario as well.
Yes you are very welcome to use my comments on your testimonials page. Should any prospective customer want a reference then feel free to give them my email address. Thanks again. Best wishes.
Ian Sparkes, Crewe, Cheshire.
---
Ebay feedback



Bar Billiards Table Fully Refurbished
fantastic item, very very happy with this purchase, recommended seller AAAAA +++
---
Full size Riley Aristocrat to Aldershot
Hi Ian

The snooker table is great we have already had a few games on it. I would like to say how helpful the guys were when they came to fit it nothing was to much for them , I am really pleased with everything they did. Thanks again for all your help.

Many thanks Jason
---
Full size Riley Aristocrat to Rochdale
Thank you very much for your great service everything is as expected husband delighted and i wont see much of him now :)

caz
---
Full size Riley Aristocrat to Newcastle


Hi Ian, thanks for swift reliable first class service all round, and two lads were gentlemen too. They did great job and the table is amazing!! Thanks again.
Kind regards,
Jeff.
---
Ebay feedback



6ft Riley Regency Snooker Dining Table & Six Chairs
Item was very fairly priced, essentially accurately described and delivered OK.
---
Full size Riley Aristocrat to Norwich


Hi Ian, just to drop you a line to say how impressed I am with the snooker table its awesome. The fitter was so professional and had it all assembled in no time, I look forward to enjoying many hours playing snooker with all my family and friends. thanks again for your great product and service.
best regards,
kevin.
---
3 Full size Riley Aristocrats to the Swiss Snooker association.


Dear Graeme, Ian and everybody else involved with our tables!!!
we would like to Thank you from the bottom of our hearts, that you made it possible for the tables to arrive before the tournament! We are without words for the the amount of work and patience you have put in to meet our tight time frame. We hope everybody is well and healthy. If any of you ever come to Switzerland you are welcome to visit with us!!! We will pass on our recommendation to Swiss Snooker and everybody who is looking for a table. We are very grateful for your effort and time!!! We will send Pictures as soon as the tables are up. We have a lot of our member who will help getting them into the Center.
Warm regards and best wishes, looking forward to meeting you
Yvonne and Markus, Switzerland.
---
Hi Ian,
Just thought I'd drop you a note to say thanks. The installation chaps finished earlier and the table is absolutely beautiful, massively exceeding my expectations (which we're already high!), the finish is absolutely beautiful and the table as a whole is just magnificent. I thought from your web site that I'd be dealing with true craftsman and that's exactly the experience I've had. Thanks.
Graig, Deeside
---

"From initial contact through to delivery and installation I was thoroughly impressed with their standard of service and workmanship. Any questions I had were answered quickly and the whole process went smoothly.

Lastly, the finish on the table is superb - flawless, in fact. I would not hesitate to recommend this company to anyone looking for a table."

Terry, Blyth, Northumberland.


---

Hi Ian,

The table is fantastic, a wonderful piece of classic English furniture! It's in great condition, they guys set it up in good time and I am so proud I bought a "real" table instead of the cheaper Asian look alike ones.

Thank you very much for a great product and excellent fitting service. If you ever need a reference for future sales then people are welcome to call me.

Regards, Alan.



---
Hi Ian,

Just as you promised, the scoreboard arrived this morning and I am more than happy with it. Thanks again for all your help and for the snooker table and chairs - an excellent product at an excellent price.

Best regards,

Geoff.

---
Hi Ian,

Just thought I would let you know that the table looks great. Delivery and installation was an excellent job. I just thought I would take this opportunity to thank you.

Kind Regards,
Sue.
---
Hi Ian,
very quick and excellent installation service- table is fantastic.
7ft Simply Pool Table
Mr Lindley, Longridge.
---

This is one of the few restores left in this country that has such a wealth of real skilled labour and delivers such fine craftsmanship and quality of service.

Ian Donohoe.
Idonohoe Snooker Accrington Lancashire
England ian@idonohoe.com


Snooker tables refurbished to your specifications to the highest quality
in the Industry. Right here in Accrington Lancashire England.
Refurbished secondhand and antique tables.