Second Hand Snooker and Pool Table Restoration


As well as buying second hand and antique Snooker tables, We offer a very successful Snooker Table Refurbishing service for clients who wish to give their own tables a well earned makeover.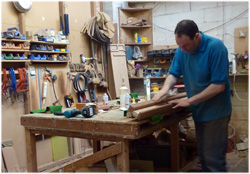 What we do..
On collection the table is completely taken apart, and all components are labeled and boxed.
Then we get to work on the wood-work.
First the hazardous job of removing the old Varnishes, Paints and Lacquers, So its out with the caustic bath, paint stripper, face mask and gloves.

2- 3 days of hard labour and after a good hosing down we have chance to work on the cushions while the frame and legs dry off.
After the woodwork has slowly dry ed, its off to the sanding dept to remove the knocks, scratches and years of abuse.
One by one each component is lovingly brought back to life.
Legs are fixed in the lathe and re-turned and sanded.
The frame is re sanded and the brass fixing's, Pocket plates, Rest holders are polished until they gleam again or are replaced with brand new fittings.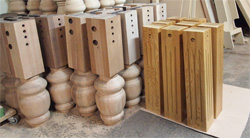 After a final sanding is down to the Polishing shop for several coats of stain, Lacquer and polish. Meanwhile new pocket leathers are fitted and a new pure wool cloth is ordered.

The cushions are Rerubbered with the finest Northern Rubber and finishing to as new. Its now time to take it back to the owners for re assembly, leveling and installation.
Any *RAL colour. *(this means any colour within the paint industry. RAL is the recognised standard colour coding for the mixing of paints and lacquers.) Snooker tables are very heavy indeed. This is mainly due to the slate bed. The game of snooker requires great precision and accuracy. Slate is a metamorphic rock and has been the chosen bed material by snooker table manufacturers since the game's early conception. Slate was created millions of years ago with the process of very fine sedimentary clay or volcanic ash deposits / layers that under the action of time with huge pressures and a moderate amount of heat. (not hot enough to melt but hot enough to change its structure to a lateral nature ) to give slate its dense and stable characteristic as how we know it today. Due to this geological process slate can be cut into long flat layers which is ideal for this purpose and quickly became the standard material throughout the industry. A full size snooker table slate bed usually come in 5 pieces. Each piece can range from ¾" inch to 2" 1/18" thick and have to be assembled in the correct order. They are extremely heavy to manhandle and sometimes need 4 persons to carry. Each of these slate pieces have been drilled and doweled during the manufacturing process to fit together perfectly. The whole bed is then precision ground to create one completely flat snooker table bed. On final assembly in a snooker room and once the table has been leveled the joints in between the slates are filled with epoxy resin and once set are sanded smooth to leave a perfect join between each piece. Snooker and Pool table cloths. We use the Hainsworth Smart range of wool napped cloth for all but a few of our snooker table refurbishments and installations. This cloth above all has been chosen as the industry standard throughout the country. It's a very popular cloth that is found in most snooker clubs and private residences. Its is hard wearing, reliable and only requires replacement perhaps every 4 - 5 yrs even with regular use. Strachan 6811 has similar properties to the Hainsworth smart and can be ordered separately if desired. There are other specialist cloth choices however that can be ordered if required. According to our experienced table fitters ( All time severed with apprenticeships at Riley Snooker when the manufacturing base was here in Accrington and Padiham) Strachan Tournament & Hainsworth Match lasts around 12 months. Strachan Match and Hainsworth Precision lasts only a matter of weeks! These are all at least £100 extra on the price of any snooker table offered. Our American Pool tables are supplied in any of the colours available within the Hainsworth Elite Pro cloth range. Again this is the industry standard and is durable enough even to be played outdoors. The upgrade in this instance is to the Simonis Cloth which is around £30 extra per table. Pro cup pool American pool Balls can be ordered for £125 extra.


See what tables we have in at the moment by visiting our Refurbished table section EBay shop

.
New snooker cues and balls are supplied with every Refurbished table.