"I have always been outside somewhere… Even as a kid I would spend much my time out exploring… I'm afraid its no different now!"
Either on foot or by bike, you would find me fishing, shooting, exploring disused factories, building dams and collecting birds eggs.

Those were the days before all the Health & Safety legislation & political correctness, that stifles proper life experiences and growing up.
The thing is, that even though nowadays you could get locked up for such pursuits, you do however learn a great deal on a practical level about life, and develop a great respect and understanding for the world around you.


My love of the outdoors apparently started many years ago on a camping holiday in the New Forest with my Grandparents. I disappeared one morning and went "crawl about" I say crawl because I was too young to walk. The search party found me playing near some Roe Deer in the forest!
I was also reminded by my parents about the time I was once brought home early one morning by a engine driver who found me a bit too close to his train as I played in my pyjamas on the railway embankment.
This is the actual spot where the driver found me. I used to live behind that Factory on the right. (image Robert Wade)
"He left his train steaming away in the railway cutting and brought me home!" Can you imagine a train driver doing that now?

And when I went on an early morning trout tickling expedition with my younger brothers, "Andy & Neil" and lost all track of time. The Police found us at 7 pm later that evening. "I could have sworn it was only lunch time!"

Mum (Lois Donohoe, nee Britcliffe) spent her entire career from age 15 as a Staff nurse / Sister, at Accrington Victoria hospital till her retirment. Dad (James Donohoe) worked as an engineer on merchant ships in the early yrs, then held good skilled positions in many of Accrington engineering companies.. I have three brothers, a sister, a dog, a magpie, and some roach & perch in an old dolly tub in the back yard. I also used to bring home and attempt to rear fledglings and hedgehogs. ( perhaps more of them later )

Our first dog disappeared after only owning him for one hour! … I took the unfortunate pooch for its first walk, but was refused entry to my friends house. So I said to the dog "Wait there!" and on returning from playing with my friend, it had gone!

The dolly tub got chucked out when my younger brother Andy nearly drowned one day. He wanted to get a closer look at the fish in the tub, but leaned over too far and got stuck in the tub head first! I can clearly remember my dad running outside and tip it over before it was too late!

Our second dog "Scott" (Cocker Spaniel) lasted a little longer, but was swapped for a "Hats Off game" when it was finally realised I was allergic to animals!

Trains
My fascination with trains and the railways were somehow hardwired into me right from the start, not that I ever stood at the end of a station platform taking down numbers!
I can remember way back at… Nursery school watching steam engines from the top of the playground slide. Puffs of smoke clearly visible as the engines chugged their way behind Accrington cricket club to the famous Accrington Nori brickworks at Enfield and Whinny Hill. The thing is after a while you have just had to get a bit closer…and closer! And that's where it got a little out of hand! If only my Mum Knew...!

At first I used to sit on top of bridges, then down near the track side and later right beside the track to watch on coming trains. You never had to wait long too! We had steam trains every 30 mins pulling dozens of wagons full of coal or fuel oil, as well as hourly passenger trains between York, Blackpool or Colne.
Then I can remember a rumour that someone from the Huncoat council estate had dug out a gap in between the railway sleepers and if you had the bottle, let trains run right over you!
" Well that sounds like a challenge!"
Anyway after school one summer evening I was just trying out this coffin between the rails when the 7.05pm to Blackpool North came into view!
Looking back I should have just stayed there and took my moment of glory in local folklore. But no, as the train came quickly round the bend and squared up with me at 60 mph other thoughts crossed my mind.."what if I was pulled up into the bogie wheels?"
They used to say… "don't stand too close to the platform edge in stations, you will get sucked in!"
I was undecided. milliseconds ticked by…. I maybe had 5 whole ones to play with.. So I jumped up from the relative safety and leapt from under the unstoppable wheels with no margin of error!

Again A few days later saw me inches away from a slow moving heavy goods train. It was an impressive sight sat 3 feet from trackside as the diesel hauled itself up the incline from Accrington. I could see the drivers face and hat through the dirty narrow windows as it thundered by. One by one the trucks came slowly by and as the last Guards van came past I jumped up from my hiding place and gave chase in an attempt to jump onboard.. Thankfully it was ever so slightly too fast and as my grasp missed I ran across and onto the other down line rails……Straight into the gaze of an oncoming diesel goods train.. !! Again with only a split second to spare, I just managed to dive out of the way!
This had to stop!
Boy Scouts
I decided to join the boy scouts, but only lasted 15 mins, and was thrown out for climbing around the stacked up chairs that circlied the church hall.

Time to start exploring disused factories and mills!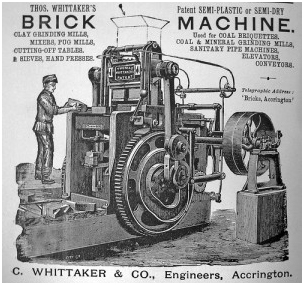 The long school summer hols were great opportunities to go out and explore the area. We used dam up streams, play in disused factories, fish in mill ponds and swim in local quarries. Oh and before I leave the trains behind there is also one other very stark memory that comes to mind whilst sat on the top of that playground slide oh so long ago… and that was the sound of the Huncoat colliery pit steam winding engine as it roared to lift Miners from a standing start a thousand feet below. One whole mile away the noise would be deafening. .. and as a sat there with fingers poked in my ears it wouldn't't be another forty odd years until I watched Fred Dibnah on TV did he explain what on earth was going on!



C. Whittakers Dowery St Accrington. Foundry and Engineers who manufactured brick making machinery for Nori bricks. "its such a shame that these skills have now been lost."

It was the workplace for my father in law to be, but I didn't' know it at that time. If you could squeeze through a ground floor broken window you found yourself in an amazing playground with a black sandy floor, empty offices and a clocking on machine.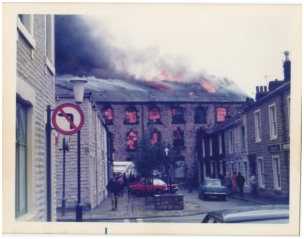 You would find leftover worker artifacts like stained brew cups and nude girly pictures on the walls!

C . Whittaker Brick machine foundry on Maudsley Street was as good a place as any to start exploring factories.

There was an overhead crane and a primitive lift in the middle of the factory that went through the three floors by means of wooden hatches. It was great fun being lowered down through the building! That was until it burnt down one afternoon in the Eighties.
I watched the blaze myself just to the left of where this picture was taken.

Whittakers Foundry on fire looking from Maudsley st Accrington. My local pubs at the time of the blaze, Royal Oak "foreground right" and New Brewery "far right corner" image courtesy "Gremlin, Accrington web"

A bit closer to home was the Pioneer works.

They used to make washing machine mangles along with other house hold appliances.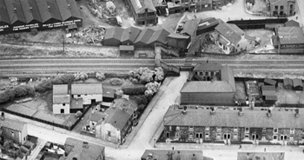 My older brother, Jimmy found an air rifle in the old rubber store which was a great prize to have in those days.. Access to this derelict wonderland was gained via an Iron bridge across the railway, then through a hole in the gate. I followed my older brother in there one day after being left behind at another play site.

As I entered the factory I could hear the voices of my brother and his friends up on another level of the building. I tried to sneak up on them, but they heard me coming. They shouted down…Who's that?" I said nothing but stamped on the wooden stairs as if I was the watchman. "Who's that"? they shouted again.. I could hear the commotion upstairs as they ran for their lives. Unfortunately my joke backfired and my brother cut his hand while trying to escape through the first floor window!
later on the premises was to be the location for the world famous E.J Riley Snooker table factory. I can remember some years later going to the premises for a school trip to see what a new fangled computer looked like. We stood around this early printing machine as it very very slowly printed out a picture of the Mona Lisa in numbers and letters. I can remember thinking "this is very boring indeed". It wouldn't't be for another 30 yrs, until I spent the best part of 7 years learning computer systems at college that I can look back and think.. "Yes that was still very boring"! I don't know how they ever caught on!


Broad Oak, Tunnels, lodges and quarries!

There was one day when we were out on the top of a local quarry with Andy and Neil. This quarry sits alongside burnley road and as far as I know is still being worked.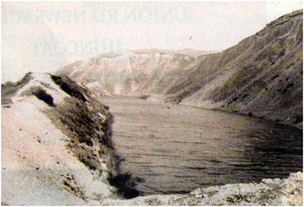 Anyway, It had sheer sides and was over 100 feet high. Andy decided to take a closer look at the edge. We had already been throwing stones off the top a little earlier where the sheer cliff edge was at your feet, but at this point there was a shale scree leading down at a steep angle to the cliff face. He started shuffling down the slope when all of a sudden a mini landslide was set off carrying him towards the edge. We could do nothing but look on screaming in horror as he disappeared out of sight. Seconds later his head popped up above the spot where he vanished and said, " its ok, I've landed on a ledge!" OMG, how lucky was that!
One winter's day there were 7 of us playing on a frozen disused quarry lake, that was until the ice started to give way! Boy that was frightening. It was 15 feet deep, I know because I had been out in the middle during the summer in an old bath testing the depth with a plumb line. It was also a cracking place to fish and had some huge Perch in there.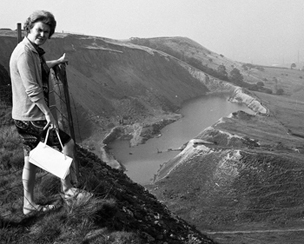 One night after heavy rain, the side of the quarry cliff gave way.. "as seen here in the picture" the weight of the landslide lifted the entire far end of the quarry lake up into the air and stranding lots of fish.
The quarry, Burnley Road Huncoat. dug into the side of the Coppice Accrington.
It was a Shale Quarry used for making the famous REDAC bricks. There used to be a overhead cable way carrying buckets that took the shale over a mile down the hillside, over Burnley road and to the REDAC Brick works near Huncoat Railway station. There was another small pond called "the froggy" down the hillside which was filled in because a boy had drowned in it.
There was another great memory of the Burnley rd quarry, when a group of older teenagers armed with air rifles arrived one afternoon and had somehow got hold of 5 big 2lb tins of Sodium Metal. The lads were pretty welcoming as I knew one of them, so I quickly packed up fishing for the day and joined in with the fun… We had a brilliant afternoon making depth charges and shooting at the fizzing sodium pellets. They would throw the sodium lumps into the lake and then see who could be the first to shoot and hit them. The successful marksman would be rewarded with a big bang , flames and lots of smoke! It was brilliant. The highlight of the day was when they made a real life depth charge by putting 1lb of sodium in a tin filled half with stones. They shot lots of holes in the tin just to make sure it went down quickly. Anyway it was lobbed into 5ft of water ( "into the nearest part of the quarry seen in the image with the lady).
A few seconds later the earth shook at our feet and at the same time the surface of the lake jumped up for an area of about 6 feet across, then a huge bubble 2 feet high and what looked like the whole bottom sediment was hurled up into the biggest bubble you could imagine. It was like the pond had been lifted inside out! Fortunately all fish at that end had long since departed with the earlier disturbance!
At the other side of the valley was the Whinny hill brick shale quarry, this was still being worked and very much in use. We used to ride on the conveyor belt that connected the quarry under whinny hill road and into the Enfield brickworks beyond. This was good fun but you had to get the timing right or you got stuck under the metal canopy which covered the conveyor before it went across a bridge and dropped into the rock crusher!
My brothers and I used to spend a lot of time at the other side of town at a place called "Little Blackpool". This was a fabulous place with a couple streams full of Trout. There were also lots of tunnels that weaved under the Calico Printers factory complex at Broad Oak.
As well as catching lots of fish, we also used to explore the tunnels with torches made from sticks and molten flaming plastic bags wrapped around the top. As we walked inside the tunnels you could hear the "zip, zip, zip" as the molten plastic dripped into the water at our feet.
We didn't't bother about the acrid smoke or the chance that the tunnel could cave in…. That was until it DID!
About 100 meters up one particular tunnel on a small tributary called "Brocks", there were boards blocking the way with a sign daubed in paint declaring it was dangerous to proceed. Obviously that was a clear sign to go on and explore further, so we kicked the obstruction out of the way and went on. The character of the tunnel from that point changed from one of arched brickwork to having a flat sandstone roof. I can remember thinking "that doesn't't look safe", but it was great fun and planned to return and continue the adventure. The very next week we went back to explore further, but the tunnel had collapsed and the stream was now bubbling out of the ground on a pathway further up the valley! ..GULP!
The tunnels of the broad oak works complex were a scary playground of unknown depths and uncaught trout!
(image courtesy of Urbexforums.com)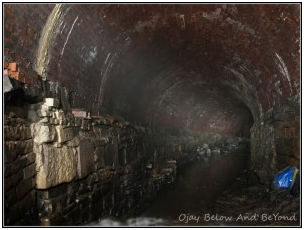 Another time I lost my shoe in a sewage settling pond as one of the factory workers tried to catch me after breaking a window! "I knew he wouldn't't chase me across the effluent. "I ran so fast, that I skimmed across the first bit" that was until gravity got hold and I started going down!
Fortunately I grabbed the other side of the nick of time!
I carried on running till out of sight, then waited in the undergrowth until the chap had gone. I later returned to the sewage tank with a long metal pole and fished the shoe back out. I daren't go home without a shoe and quickly took it to the stream to wash the crap off. To explain my wet shoes, I bought home a Trout!
The hols were also great times to go on poaching expeditions to local trout fisheries.
We once nearly got caught poaching on a local res by one of the workers. It was early one morning and we thought no one would be up at that time. He chased us up and over the side of the Coppice, which to his credit is quite a feat for a grown man in the 1960's!
Things got a lot scarier when one time – again with my two younger brothers, Andy & Neil. We were out fishing on the Salmon ladder at Brungerley weir on the River Ribble. We were enjioying some success with a string of small trout which we were returned to fight another day when .. Suddenly from over the hillside at Waddow Hall we saw a big fat bailiff running down the field towards us. In absolute panic we legged it downstream and into the woods. One by one each of us peeled off up the river embankment to find our separate hideaways. I lay motionless in the grass for what seem like ages, then all of a sudden the Bailiff was there standing right above me. " I darn't move " Surely he had seen me! But no, he walked on by. As soon as the coast was clear it was time to see where the others had got to.
Andy was found up a tree and Neil was like me, hidden in the grass.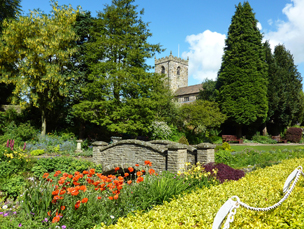 We could believe our good fortune, so decided to change our plans for the day and had a successful afternoon tickling trout in the stream that runs through Waddington instead. We always brought home a trout for Mum.
I even managed a decent trout whilst on our way back from a family day out in the car to Howarth. It was a nice hot summers day and Dad stopped on the way back home next to a likely looking stream. within a couple of minutes there was 10 inches of Yorkshire Brown Trout in my hands. "Nice one Ian, said Dad" and we carried on home!

Stabbed..in the Back!
This was totally my fault!….. Aged at 14 I was walking through Accrington Victorian Arcade with my school mates one lunchtime when I took it upon myself to show off and pick on an un suspecting trio of Truants. I sent the youngest of our gang in to act as bait to lure them into a fight. As soon as they fell in to the trap I sprung out and set upon the ringleader. Well I was only 30 seconds into my rumble when one of our gang shouted " He's got a knife"! From then I can remember trying to dodge this unforeseen advantage and with one final swing he managed to stick it into my back.
No real harm was done just a cut and a bit of blood. But it was enough for me to go back after lunch and report the incident to my teacher. Well all of a sudden, this got out of hand!. Within minutes I had been interviewed by the police and a man hunt was underway. One by one Police cars turned up loaded with local suspect youths picked up from the streets ! I was called to identify these suspects, which was quite an embarrassment as most turned out to be my mates whacking it off school…!
Thankfully they never found the mystery stabber and I deserved just what I got!

More outdoors
There was always fresh fish in the fridge.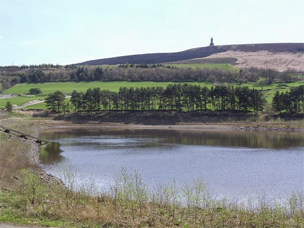 My girlfriend once had 5 rainbows stuffed up her jumper in a plastic bag. The bailiff said to her " Hes' not much of a boyfriend bringing you out here in that condition luv!!" Sunnyhurts Res, Darwen.

In the late 70's and early 80's I did a bit of shooting. Like with most things, I try to do it properly. I made it to the Gt Britain final of the air rifle field shooting championships at Bisley after qualifying at some stately home near Leeds. I didn't win any prizes as I came 21st, but was recorded as the fastest shot over the event. In practice sessions I used to be able to get through two full tins of pellets, thats a 1000 rounds. It got to a point where I could hit tin cans in mid air!
Shooting fell out of favor one particular day whilst out with my gun in Hapton woods. I tracked down and spotted a Roe Deer up in a clearing. I raised my sights on the animal and lined up the shot. "Surely I wasn't' going to bring down a animal of that size with an air rifle?" "Your too bloody right I wasn't'", and quickly lowered the gun from its aimed position. What was I thinking of? The Deer walked off into the undergrowth and vanished. A little later I saw what I thought was a crow in a nest way up in a tree. I hit the bird only to find a beautiful Jay laying on the floor dead in front of me. I was gutted as I had never seen a Jay before.
On the way home that same day, I was walking through Accrington cemetary graveyard and saw what looked like a long thin Rat go down a hole "a Weazel". I ran to the spot and hovered the end of the barrel over the hole and low and behold it popped its head back out. I couldn't pull the trigger and again lowered my aim.
That was the last time I went shooting and sold the gun.
Fishing.
Near the centre of Accrington is an old mill pond called (Platts lodge).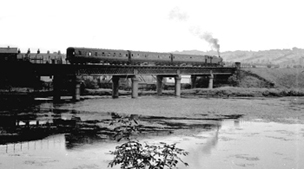 The water from the lodge provided steam for the engines to power the huge Howard and & Bulloughs factory complex in days gone by.
Now Platts as it was now known, had a fishing club and you were doing well if you managed to gain membership. It was sometime in the early eighties that long time fishing friend Ian Cowell and I gained membership.
Now the club secretary "Morris Burton" was very strict about the club rules and anyone found to be in breach would be promptly expelled.
Platts Lodge Accrington in its Hay Day. Full of quality Roach and hard fighting Carp. On a beautiful misty morning. Those metal pillars that can be seen in the middle of the lodge used to carry the old Railway line from Accrington to Manchester. Picture I Donohoe
So it was on a warm June 15th evening that several anglers including Morris, Ian and I were sat beside our chosen fishing spots waiting midnight and the start of the new fishing season. As darkness fell the rods were set up, prepared and ready.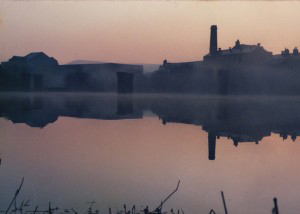 " Only two hours till the magic hour of midnight", but too long as it turned out because Ian had been a bit sneaky and already cast his bait into the water. Well he was just answering the call of nature, you know the number 2 kind when he got another kind of run so to speak! In an blind panic to pull up his trousers and get to his fishing rod before the carp took all his line off the reel he slipped backwards into his own poo making a right mess and commotion! Morris enquired what all the fuss was about! I managed to pacify him while Ian landed the early fish and cleaned himself up! We all settled down for a short while, but word had got around the lodge that the season was underway before it should be and at around 11.30pm, 30 mins before the official start of the new season, you could hear lots of splashing and swirling out in the darkness of the pond. Morris said "Sounds like we are in for a good opening season" Little did he know there was 3 of us playing Carp at the time!
The fun carried on into the morning, there was one chap fishing who was wearing not only Camouflage clothing but all his equipment was camouflage as well. Now Ian is a bit of a practical joker and deliberately kept stumbling into him. "Oh I didn't see you he said" he must have done it 5 or six times. We were in stitches watching this from across the lodge! We never saw that camouflage chap again!
Let me tell you about one of my most embarrassing moments. It makes me both cringe and laugh at the same time!
One early morning Ian Cowell took me to fish a place called Heapey lodges nr Chorley. I had never been there before and on arrival it was just getting light and it was very misty. Ian led me through the darkness to the lake. I was getting pretty excited as I set up my fishing gear, my stomach churned with apprehension for the day ahead. . . . A call of nature came upon me, so I scrambled up the bankside and immediately found to my relief a couple of Hawthorn bushes just above where I was to fish. A few minutes later I was back at the bankside setting up again ready for a memorable day!
Well the sun grew higher in the sky and the mist cleared. It was the most beautiful summers day you could imagine. Just then the peace was disturbed by the voice of a passer-by mumbling under their breath. Then it happened again, and again and yet again!. Ian said " I wonder what they are all complaining about?" Ian walked up the Bank to see what all the fuss was about. "YOU DIRTY BASTARD!" he said.
"What Me? What? "You have only crapped in the middle of a public footpath haven't you?" I did it in the bushes up there! I replied. "The main footpath runs in between them and its the main route for everyone in the Chorley area to walk up to the Cricket club and White Coppice beyond." "You couldn't have done it in a worse place!" He was right and to make it worse the mess was surrounded by shuttlecocks of tissue paper just to prove it wasn't a dog or something! I quickly packed up my tackle and moved away to fish somewhere else!
Good fun on the Ribble…
A year or two later another local fishing club that I was a member of managed to secure access to a prime Salmon and trout stretch of the River Ribble. We were allowed to fish as long as we took away the Course fish, leaving the Trout and Salmon behind for the posh anglers.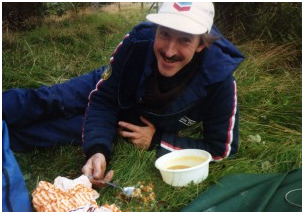 Well this particular winters day I was merrily catching one small trout after another. All of them by the way I returned as I was supposed to. When all of a sudden the rod lurched over and I was into a real beauty. I thought to myself, " there's no way this one is going back as I slid the net under a two and a half pound Brownie". And as I turned round to dispatch the big Trout, I found myself looking at the feet of the Bailiff " Ivan Duxbury". I said without pause.. "Oh hi ya Ivan, you got some real nice fish in this part of the river". Yes he said "I have been watching you from the trees over there. Its nice to see you are putting the fish back". Yeh I though, its a bloody good job you are still not up there as you would have seen my knocking this one on the head!
Ivan the bailiff turned out to be a nice guy. On frosty winter mornings we used to take a primus stove and extra food for his bankside visits. We had a laugh one day, the stove fell over including the contents of a full can of chunky veg soup. There was nothing else to do but eat off the ground, we dipped our bread slices onto the quickly disappearing mess!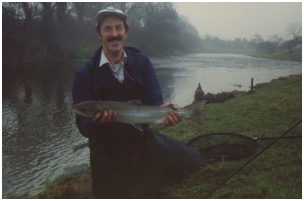 On another Winters day, fishing buddy Ian Cowell hooked into a good fish. He was only using 2 pound breaking strain line and double Maggot on the hook. The fight went on for about 10 minutes and showed little sign of ending. I climbed up the bank to get a better view down into the river. I could see the fish and shouted to him – " Its a Salmon". Oh Bugger my friend remarked, I thought it was a good Chub!"
Fishing with my mate Ian Cowell was a real tonic and we developed a great friendship that was to last till he was lost to that nasty disease in early 2017 RIP. We used to fish in competitions together and ended up competing in a few division one national championships. We won lots of money back then and most weeks we would at least pick up a section win or two.
The coach trip home on the way back from The Div one National River Trent. We always had a sing and a few beers no matter how badly we did! On this day our Stewards lost the Scales for weighing in the Nettles after getting Pissed in the Pub at Caythorpe!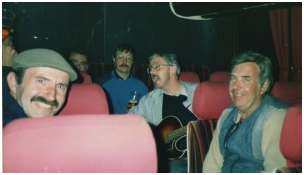 It was lots of fun then and still fish occasionally on holiday…



Cycling!
I first started taking cycling seriously about 20 yrs ago in a successful attempt to pack up fags and get fit.
It started like this….One day whilst recovering from a bout of flu I thought it may be a good idea to get my old "hand me down" bike out of the shed and get at little fresh air in around the streets where I live. Well one thing led to another and I soon found myself at the foot of my local hill "The Coppice in Accrington". The bike was totally unsuitable and on eventual arrival at the summit – developed a flat tyre!
I stood there for a few moments, the view was great but "how the hell I am I going to get home"? I had no means of repairing the bike! Did'nt have a pump or repair kit.
Just then a guy on a proper mountain bike rode by! I didn't think of asking for help, but looked in awe at how that bike and rider effortlessly progressed across the terrain.
That was it, and that very afternoon after pushing the bike home, I bought a mountain bike for £50!
From that day on, I took every opportunity to explore our local trails, hills and moors. It was a brilliant time, Lancashire is surrounded by hills. I found that you can cover long distances, explore places where you would usually need a car. I was to discover old bridleways linking my town of Accrington with Hebden Bridge and Haworth in Yorkshire. I can head west over to Darwen Tower, Winterhill and Rivington. All this and lots in-between can be linked together to create long exciting days out.
To the North, we have The Ribble Valley and Bowland fells with some of the very best road cycling anywhere. Beyond Bowland are The Howgills, then The Lakes and Scotland. The countryside is unbroken if you go North.
I joined a local MTB club and with them learnt a whole lot of other routes and trails, some much further away in the Lakes, Wales and The Peak district. But there was one place more than any other that caught my attention and that was the Yorkshire Dales.
The Dales are only 25 miles away. I can get to Settle in 1hr 30mins on my bike. I don't like using the car and much prefer to ride from home if at all possible. The Dales also have some of the most extensive and exciting and remote upland Bridleways in the country.
The scenery is breathtaking, its possible to ride most of the year as the geology is made up of Limestone and rainwater drains away quickly.
I still carry a rucksack. "You see, I like to carry spares as I have seen and helped many a stranded cyclist over the years."!
" I learned the lesson of being stuck on top of the Coppice 20 odd years ago!"