10ft Riley Imperial Snooker Table in Solid Oak


Latest news from the workshop: 02/10/2023 Lead-time at the moment around 8 weeks.




This table requires a minimum ideal room size of 20ft x 15ft for unobstucted game play using 58" snooker cues.
Image above is of the actual table taken before it was dismantled.
The 10ft solid oak Riley Imperial snooker table, circa 1920.
The Riley Oak Imperial sits on 6 wonderfully proportioned solid oak legs and comes with a 1.75" Welsh 5 piece slate bed.

The table will go through the full process of refurbishment, with the woodwork being completely stripped and sanded, any imperfections repaired and whole table polished back to as new finish.
New pocket nets and natural hide leathers will be fitted, new northern cushion rubbers and Hainsworth Smart wool napped cloth fitted to both cushions and bed. The buyer can choose from either light, mid or dark shade of Oak finish.


Comes supplied with, cross rest, spider rest, 2 x snooker cues, matching oak scoreboard, triangle and a set of Aramith snooker balls.
The frame is absolutely solid. This along with the over engineered cushions give excellent ball response. "You will get the traditional E.J Riley quality at its best."

Any questions; ian@idonohoe.com
Circa 1920
Made From Solid Oak
Northern Rubbers Fitted
Wool napped cloth (colour of your choice).
Precision Ground 5 piece 1" 3/4"" Welsh slate

Cloth colour options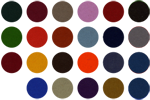 Professionally delivered and installed by one of the country's top installers "Sovereign Snooker Services".
Please call or email using contact details below, feel free to ask any questions.

If your room is under development, we understand that building works seldom go to plan and will hold the table until you are ready to take delivery. We are not a high volume Manufacturer/ Refurbishers ( we do things the old way ) To place an order a 20% deposit is required by bank transfer. The balance paid in cash or bank transfer at point of installation and your satisfaction.
Please see our "Customer testimonials page for reassurance".
Groundfloor delivery and installation is included in the price to e.g... North London, North/Mid Wales, Birmingham, Glasgow, Edinburgh.
Other areas may be a little extra.

( 02/10/2023 )

10ft Riley Oak Imperial Snooker Table including accessories for two persons.
SOLD Total £3000
Deposit @ 20% = £600

Balance of £2400 paid in cash or bank transfer at point of installation and your satisfaction.

If you would like to us to hold this snooker table until your snooker room is ready please give us a call or email to reserve.
Contact; ian@idonohoe.com 07969288786 Ian.


Manufactured and Refurbished In Accrington England




All our tables are fully refurbished in Accrington, Lancashire by ex Riley time served employees.