12ft Full-size Solid Oak Snooker Table for sale
Latest news from the workshop: 04/06/2023 Lead-time at the moment around 8 weeks.



"This table is in as new condition", only a few years old. Table was bought from new by previous owner which was installed in his private residence. There are no signs of wear, scratches or any marks whatsoever. However the table will be fitted with a new Hainsworth wool napped cloth for the purchaser.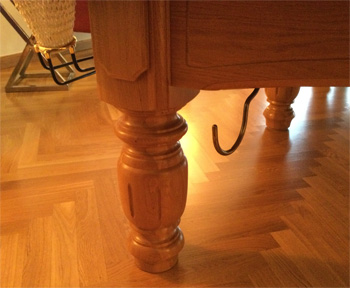 The table is similar to a Riley Aristocrat and we belive it to have been made in eastern europe. All woodwork is manufactured from solid european oak. With Aristocrat styled fluted legs and frame.
The table is supplied with a five piece 1.75" genuine Italian slate bed. Each slate has its own adjustable slate bearers for fine tuning a level playing surface. ( an inpressive improvement over our english made table )

This great looking table sits on 8 solid oak turned legs. Solid oak frame and cushions. The cushions are heavily engineered to give great ball response. Northern rubbers are fitted.
Original nets, leathers and ballrunners fitted to all pockets.
Cushions and bed cloth to be recovered in a new traditional olive green Hainsworth Smart wool napped cloth.
"It will look fantastic and play as new".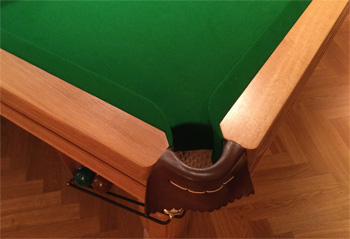 Ths table will also come supplied with... 2 x new Snooker cues, cross rest, long tackle, spider rest and rest hangers. A set of Aramith snooker balls, triangle and a scoreboard


.
Table price £3000 inc all the above.
Professionally delivered and installed by one of the country's top installers "Sovereign Snooker Services".
(Groundfloor only) Most mainland UK, usually £250. e.g. North London, North & mid Wales, Birmingham, Glasgow.
Other areas, please ask?
( 04/06/2023 )

Price example:
Table price £3000.
Delivery and install £250
Total £3250

Deposit @ 20% = £650
Balance of £2600 paid in cash or bank transfer at point of install and your satisfaction.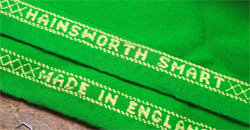 Contact to arrange 20% deposit or if your snooker room is not ready to secure this table.
The majority of our customers are undergoing their own snooker room developments. We understand that building works seldom go to plan and will hold a table until you are ready at no extra cost.


ian@idonohoe.com 07969288786 Ian.
Cloth colour options