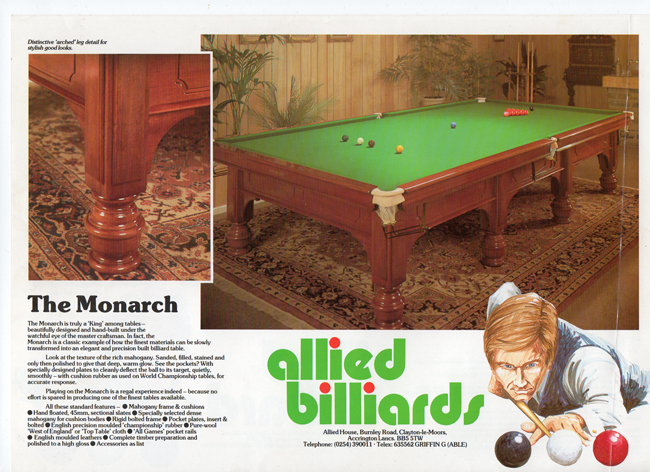 12 ft Allied Billiards Sovereign Snooker Table
02/10/2023

*Ground floor delivery and installation is included in the price.
Manufactured in the mid 1980's Burnley Rd, Clayton Le Moors, Accrington.
5 piece 1.75" inch italian slate bed.
Another great solidly built example snooker table from Allied Billiards.
One of the best in their range of tables. Beautifully crafted out of solid mahogany, sits on 8 well proportioned turned legs.
All woodwork to be totally stripped back to the bare wood.
Any imperfections repaired and the complete table re-polished back to its original state.
This table can be finished to a darker mahogany during refurbishment process if required. "It will look fantastic and play as new".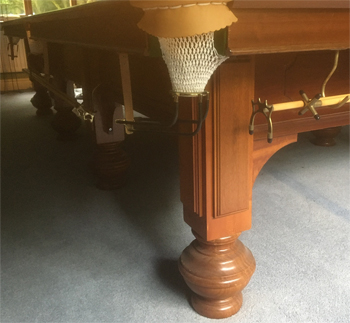 New pocket leathers and nets are to be fitted, cushions and bed cloth to be recovered in Hainsworth Smart English wool napped cloth.
Will also come supplied with... 2 x new Snooker cues, cross rest, spider rest, long tackle, rest hangers, set of Aramith Snooker balls, triangle, scoreboard and chalk.

Installed by one of the country's top installers "Sovereign Snooker Services".








Hainsworth Smart wool napped cloth.

(colour of your choice)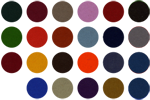 *Ground floor delivery and installation is included in the price to e.g.... North London, North/Mid Wales, Birmingham, Glasgow, Edinburgh.
Other areas may be a little extra.

Price inc accessories, delivery and installation £3610

Deposit @ 20% = £722

Balance of £2888 paid in cash or bank transfer at point of installation and your satisfaction.

Manufactured and refurbished In Accrington England.

Tel: 07969288786 ian@idonohoe.com


All our tables are fully refurbished in our Accrington snooker factory, Lancashire by ex E.J Riley employees.

Idonohoe Snooker of Accrington Lancashire England
ian@idonohoe.com
Restorers of the highest quality
Snooker & Pool Tables in the Industry. Right here in Accrington Lancashire England.
Refurbished secondhand and antique tables.
12ft Allied Billiards Monarch Snooker Table in solid mahogany