Latest news from the workshop: 02/10/2023 Lead-time at the moment around 8 weeks.



Full-size Steel block Riley Aristocrat Snooker Table in Solid Brazillian Mahogany.

We can offer this complete steel block table incuding match cloth, all accessories for two persons and delivery and install to most Uk groundfloor locations.

Full size Riley Aristocrat Snooker Table brought to you by the very same personnel who made this table in the first place.

Manufactured in Dale Street Accrington Lancashire Circa 1980's and then ultimately installed once again by the same time served Riley fitters.
Solid Brazilian mahogany turned legs and frame.
5 piece one and three quarter inch Italian slate bed.
New nets and leathers / ball runners pockets.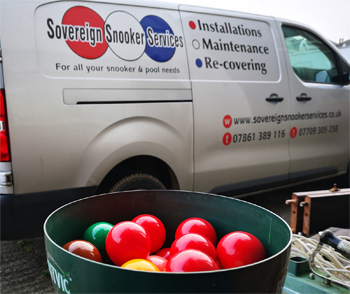 Cushions and bed cloth to be covered in Hainworth match cloth.
All woodwork to be totally stripped back to the bare wood. Any imperfections repaired and finished in a choice of either natural mohagany, dark mahogany or in the tournament match colours as seen above.
Table will be supplied with... 2 x snooker cues, cross rest, spider rest, long tackle and hangers.
Set of Aramith snooker balls, triangle and a matching scoreboard


.

Professionally delivered and installed by one of the country's top installers "Sovereign Snooker Services". (ex Riley Fitters)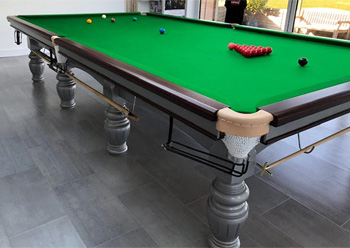 Steel Block Riley Aristocrat in tournament colour's including Hainworth match cloth.
SOLD £7350 including groundfloor delivery from Accrington to... North London, N Wales, Birmingham, Glasgow. Other areas may be different.
Deposit @ 20 % = £1470 paid by bank transfer, cash or cheque.
Balance of £5880 paid by bank transfer or cash at point of installation and your satisfaction.

Contact to arrange 20% deposit or if your snooker room is not ready to secure this table.
Some of our customers are undergoing their own snooker room developments. We understand that building works seldom go to plan and will hold a table until you are ready at no extra cost.
Cash balance or bank transfer paid at point of installation to your satisfaction.
ian@idonohoe.com 07969288786 Ian.
Cloth colour options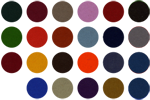 All our tables are fully refurbished in Accrington, Lancashire by ex Riley employees.