6ft Mahogany E.J Riley Snooker Dining Table circa 1920
Fabulous design and workmanship from E.J Riley. Table made in Dale St Accrington in the 1920's.
Comes supplied with 2 snooker cues, set of 1" 7/8" Aramith snooker balls, triangle, cross rest, spider rest, scoreboard and chalk.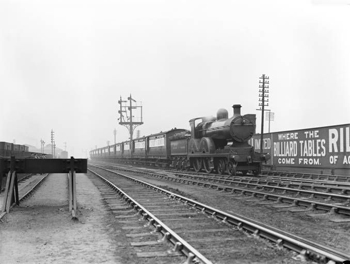 (Picture: Train aproching Accrington Railway Station around the time this table was made)

1/2" thick, one piece welsh slate bed.
Solid Brass rise and fall mechanism to take the table from dining height to playing height.
4 Piece solid Mahogany table top.
New Pocket leathers and Nets.
Both cushions and bed covered in Hainsworth Smart Wool napped cloth in traditional green or choose your own colour.
Outside dimentions are 78"inches x 42"inches. Inside playing area 69"inches x 33"inches. Playing height 32.5"inches dining height 29.5"inches.
Made in the 1920's in Accrington England from solid African Mahogany. Finished in a rich dark mahogany.
Northern cushion Rubbers Fitted.
Hainsworth Wool Napped Cloth Fitted.
Precision Ground 1 piece 1/2" Welsh Slate.
Will also come supplied with all accessories.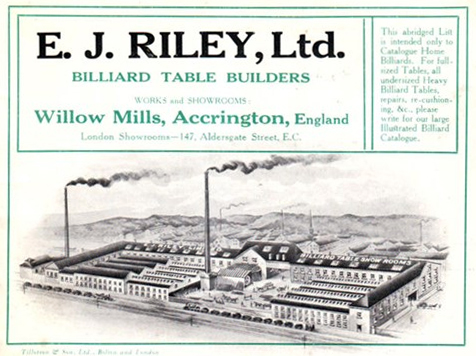 All outward facing woodwork to be stripped and sanded, any imperfections repaired and finished in the original dark mahogany satin finish.
Total for all above £3700

*Groundfloor delivery and installation is included in the price to.. e.g.. North London, North/Mid Wales, Birmingham, Glasgow, Edinburgh.
Other areas or first floor locations may be extra.
Total £3700
Deposit @ 20% = £740
Balance of £2960 paid in cash or bank transfer at point of instation and your satisfaction.


08/12/2023 Manufactured and Refurbished In Accrington England.
Contact to arrange 20% deposit or if your snooker room is not ready to secure this table.


07969288786 Ian.


All our tables are fully refurbished in Accrington, Lancashire by ex Riley employees.