6ft, 7ft & 8ft New Solid Oak or Mahogany Sovereign Traditional Snooker Table
Latest news from the workshop: 02/10/2023 Lead-time at the moment around 8 weeks.


Picture "above" of the 7ft natural oak version with square profile, fluted legs. Fitted with the new Pewter Hainsworth Smart cloth and natural leathers with ballrunner pockets.
This range of tables can be finished in Natural, Mid or Dark in Oak.
The Mahogany version will be either a (reddish) natural rosewood mahogany or stained with a rich dark satin finish. Either choice of turned or square profile legs as on this 8ft solid oak table below.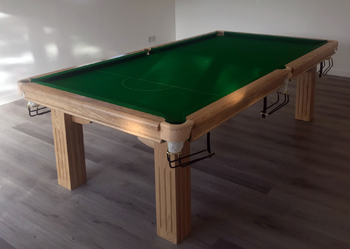 All snooker tables in this range are fitted with solid slate beds from 18mm - 35mm.
Northern rubbers fitted to all cushions for excellent ball response and predictable playing conditions.
Leather pocket nets and ballrunners or bag nets.
Both cushions and bed covered in Hainsworth Smart wool napped cloth. Any cloth colour from the swatch below.
These tables are made to the old traditional specification with over engineered solid hardwood cushions and frame. This superb range of snooker tables both look and play fantastic.

Each table will come supplied with 2 snooker cues, cross rest, spider rest, scoreboard, triangle, set of Aramith snooker balls and chalk.


Hainsworth Smart wool napped cloth, colour of your choice.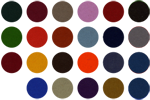 (* Please note.. We are now using 7ft & 8ft pool table slates instead of the 6ft & 7ft snooker slate on all our snooker tables. This gives an extra 2" on length and an extra 2.5" on width on standard snooker table sizes.

6ft Outside table dimensions 81"inches x 45"inches. Inside playing area 71"inches x 35"inches. Slate size 75" x 39".

7ft Outside table dimensions 94"inches x 50.5"inches. Inside playing area 82"inches x 40.5"inches. Slate size 86" x 44.5".
8ft Outside dimensions are 102"inches x 54"inches. Inside playing area 93"inches x 45"inches.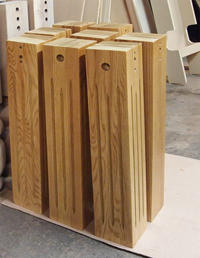 We sell all our tables direct from the factory and don't have a showroom or added administrational overheads. This is reflected in our prices, however you are welcome to visit the workshop and see our work in progress for yourself. Just call or email using the details below.

Groundfloor delivery and installation is included in the price to.. e.g.. North London, North/Mid Wales, Birmingham, Glasgow, Edinburgh.
Other areas may be a little extra.

If your room is under development, we understand that building works seldom go to plan and will hold the table until you are ready to take delivery.
We are not a high volume manufacturer with all of our tables made to order.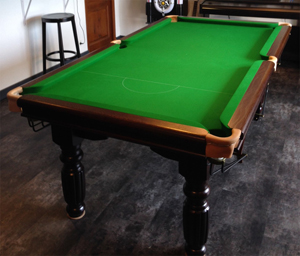 To place an order a 20% deposit is required via bank transfer.
The balance paid in cash or bank transfer at point of installation and your satisfaction.
Please see our "Customer testimonials page for reassurance"


All Prices include VAT @20% ( 02/10/2023 )

6ft Mahogany £2470
6ft Oak £2638

7ft Mahogany £2620
7ft Oak £2800
8ft Mahogany £3220 (three piece 1" slate)
8ft Oak £3610 (three piece 1" slate)

Optional Extras:
Extra shorter cues £15 each
Aramith pool balls £55

Any questions; ian@idonohoe.com
Tel:07969288786

All our tables are fully manufactured or refurbished in Accrington, Lancashire by ex Riley employees.