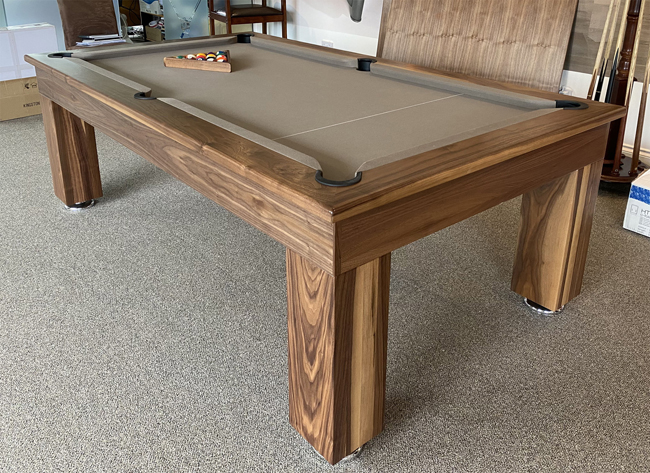 6ft, 7ft & 8ft Solid Walnut Artisan Pool Dining Table
Latest news from the workshop: 02/10/2023 Lead-time at the moment around 8 weeks.


100% UK made in Accrington by time served ex Riley Craftsmen.

Finished in Natural walnut satin polish, as above.
Solid walnut legs, sides and cushion surround. 2 - 3 piece table top in matching walnut veneer.
Automatic ball return system with access hatch at one end.
1 piece 18mm solid slate bed.
Northern cushion rubbers, Hainsworth Smart Wool napped cloth, colour of your choice.
Easy leveling adjustable feet.
Supplied with all accessories for two persons to play a game of pool: 2 x pool cues, cue rest, spider rest, triangle, set of Aramith pool balls and chalk.

Leg room from floor to underside of table 24"
Table height is 32 1/4" including table top.

The 6ft table has a playing area of 63" x 32.5" and
overall external size of 75" x 44.5" with a
recommended room size of 13ft 6" x 11ft.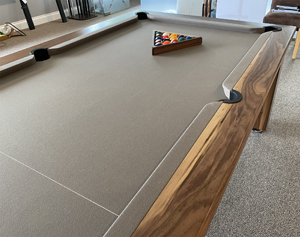 The 7ft table would give you a playing area of 72" x 36" and overall external size of 84" x 48" with a recommended room size of 14ft.6" x 11ft.6".
The 8ft table has a playing area 83" inches x 41.5" inches and overall size of 95" inches x 53.5" inches
with a recommended room size of 16ft.6" x 13ft.

A beautiful handmade to order solid walnut Pool dining table fitted with quality Northern cushion rubbers and covered in wool napped cloth.

This table is as good as it gets in materials, design and performance from the same people who made Ronnie O Sullivan's home match table.

Our prices are cheaper than other table suppliers.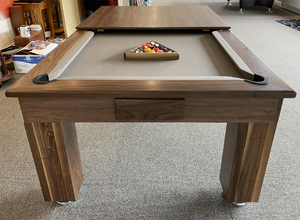 We don't have a showroom and this keeps cost down to the basic factory price.

Optional Extras:
Solid 18mm walnut table top beading fitted around table top if required for £36
Solid walnut benches for 6 & 7ft table £900 Pair.
Solid walnut benches for 8ft table £918 pair.
Table marking out for snooker including set of Aramith snooker balls, scoreboard & triangle £80
Extra: shorter cues £15 each


*Ground floor delivery and installation is included in the price to.. e.g... North London, North/Mid Wales, Birmingham, Glasgow, Edinburgh.
Other areas or first floor locations may be extra.

Contact to arrange 20% deposit to reserve. Cash balance or bank transfer paid at point of installation and your satisfaction.

( 2023 ) All Prices Include VAT @ 20%

6ft Walnut £2884 *inc delivery
7ft Walnut £3124 *inc delivery
8ft Walnut £3304 *inc delivery (Ground floor install only)
Table price example:
7ft Walnut Artisan Pool Dining Table £3124
All accessories and *delivery included in the price.
Total £3124
Deposit @ 20% = £624.80 paid via bank transfer or cheque.
Balance of £2499.20 paid in cash or by bank transfer at point of installation and your satisfaction.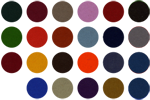 Any questions contact; ian@idonohoe.com
Tel:07969288786

All our tables are fully manufactured or refurbished in Accrington, Lancashire by ex Riley employees.

Idonohoe Snooker of Accrington Lancashire England
ian@idonohoe.com
Manufactures of the highest quality
New Snooker & Pool Tables. Accrington Lancashire England.
6ft, 7ft & 8ft Solid Walnut Artisan Pool Dining Table