6, 7, & 8ft Pool Dining Table, can be made with oak as above or
finished in any colour combination.
Latest news from the workshop: 02/10/2023 Lead-time at the moment around 8 weeks.


Manufactured in house by our ex Riley skilled fitters & machinists in Accrington by
Sovereign Snooker.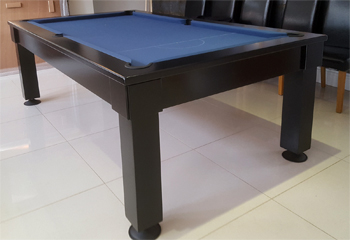 Free play with ball return at one end.
Easy level adjustable feet.
The 6ft table would give you a playing area
of 63" x 32.5" and overall external size
of 75" x 44.5" with a recommended room
size of 13ft 6" x 11ft.
The 7ft table would give you a playing area
of 72" x 36" and overall external size
of 84" x 48" with a recommended room
size of 14ft.6" x 11ft.6".
The 8ft table would give you a playing area
of 83" x 41.5" and an overall external size
of 95" x 53.5" with a recommended room size of 16ft.6" x 13ft.
Leg room from floor to underside of table 24"
Table height is 32 1/4" including table top.


The above version is made with a
solid oak cushion surround and legs.
With the side rails a matching oak veneer.

Different finishes can be made as example
(left) in satin black or indeed any colour
combination to suit your environment
to your preference.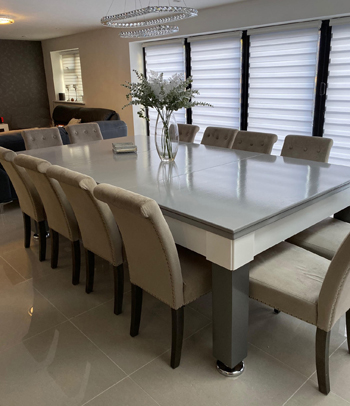 1 piece 18mm solid slate bed.
Northern rubbers
fitted to all cushions.
Hainsworth smart wool napped
English cloth (colour of your choice) fitted to both
Cushions and table bed.
Two piece matching veneered table top on the 6 & 7ft versions. Three piece on the 8ft model.

These tables play exceptionally well and have received many encouraging comments from our customers.

If you have seen a table you really like elsewhere and would like our skilled
craftsmen to build a similar version then just ask.
This table comes supplied with triangle, cross rest, 2 quality pool cues and a set of genuine Aramith spots & stripes pool balls and chalk.


Cloth colour options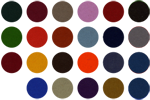 Please call or email using contact details below, feel free to ask any questions.

If your room is under development, we understand that building works seldom go to plan and will hold the table until you are ready to take delivery. We are not a high volume manufacturer with most of our tables made to our customers special instructions. ( we do things the old way )

To place an order a 20% deposit is required either by bank transfer or cheque.
Balance paid in cash or bank transfer at point of installation and your satisfaction.
Please see our "Customer testimonials page for reassurance".

*Groundfloor delivery and installation is included in the price to.. e.g.. North London, North/Mid Wales, Birmingham, Glasgow, Edinburgh.
Other areas or first floor locations may be extra.
All Prices Include VAT @20% ( 02/10/2023 )
6ft Oak Pool Dining Table £2470 *inc delivery
7ft Oak Pool Dining Table £2530 *inc delivery
8ft Oak Pool Dining Table £2770 *inc delivery (Groundfloor only)
Price example:
7ft Oak Custom Pool Dining Table.
All accessories and *delivery included in the price.
Total £2530
Deposit @ 20% = £506
Balance of £2024 paid in cash or bank transfer at point of installation and your satisfaction.

Optional Extras:
One single colour for table same price as standard oak.
Extra additional colours £50 . E.G Three separate colours £100
*Solid 18mm oak table top beading fitted around table top if required for £36
Solid oak benches for £810 Pair. (far better made and sturdier than any of the competition)
Table marking out for snooker including set of Aramith snooker balls, scoreboard & triangle £80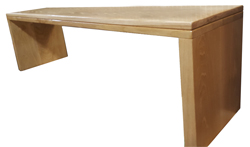 Extra shorter cues £15 each

*Groundfloor delivery and installation is included in the price to.. e.g.. North London, North/Mid Wales, Birmingham, Glasgow, Edinburgh.
Other areas or first floor locations may be extra.

Any questions or to arrange deposit; 07969288786 Ian
ian@idonohoe.com

100% Manufactured In Accrington England