New Sovereign Snooker Tables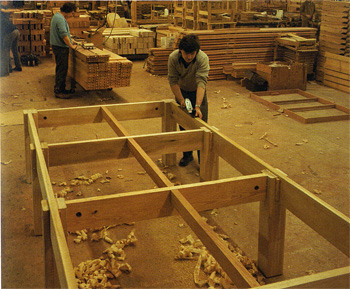 100% hand made in Accrington England by skilled ex Riley designers, machinists and ultimately installed with our skilled fitters.

Our chief Snooker Table Technician designed and produced this impressive contemporary solid oak example above. These and other designs in our range cannot be matched in quality of build anywhere in the World.

They will be crafted from scratch with kiln dry ed rough sawn hardwoods ordered from local specialist timber suppliers.
Each piece will be machined and finished to exacting standards.
Each of the snooker table legs will be hand machined individually.
Legs can be either turned, tapered as above or square. These really are the best in Snooker Tables for Cue Sports.

Built for you by the same personal that made Ronnie O Sullivan's personal solid walnut match table.

One and three quarter inch thick 5 piece diamond bench precision ground Italian slate bed.
Northern rubbers, pocket nets and leathers fitted on all cushions.

*All cushions and bed covered in the cloth of your choice.

Steel block cushions, new steel friezes can be ordered and machined from our specialist engineering suppler if required.

Can be ordered in sizes: 12ft, 10ft, 9ft and 8ft. Use our room size guide on the FAQ page

*Any cloth type and colour of your choice, see cloth information below. For normal use we would recommend the "Hainsworth Smart" range of wool napped cloth for durability.

Contact to discuss your requirements even if your room is under development.
20% deposit, Cash balance or bank transfer to be paid at point of installation and your satisfaction.
ian@idonohoe.com 07969288786 Ian
This is one of the few manufactures left in this country that has such a wealth of real skilled labour and delivers such fine craftsmanship and quality of service.

Ian Donohoe.
Idonohoe Snooker Accrington Lancashire England
ian@idonohoe.com
Bespoke Snooker tables made to your specifications. Manufacturers of the highest quality
Snooker & Pool Tables in the Industry. Right here in Accrington Lancashire England.
Refurbished secondhand and antique tables.
New Bespoke Sovereign Snooker Tables

2018
Free NW UK ground floor installation Available by our own Fitters. Other UK areas usually £100 surcharge

Cloth colour options

12' Solid Walnut Snooker Table
5 piece, 1.75" slate
8 leg
£6,300
12' Solid Oak Snooker Table
5 piece, 1.75" slate
8 leg
£5,800
12' Solid Mahogany Snooker Table
5 piece, 1.75" slate
8 leg
£5,650
"steel block friezes for all tables"
£1,300
10ft Solid Oak Snooker Table
6 leg
£4,800
10ft Solid Mahogany Snooker Table
6 leg
£4,700
9ft Solid Oak Snooker Table
6 leg
£4500
9ft Solid Mahogany Snooker Table
6 leg
£4400
8ft Solid Oak Snooker Table
6 leg
£3900
8ft Solid Mahogany Snooker Table
6 leg
£3800